Video exampler: coming soon…
Singles and slow-mo: here
Recommended prerequisites: 360 crescent
Description: The double leg is whirly bilateral jump of aggression. To be honest, I don't remember how I first landed this trick or what was going through my mind. In fact, I was petrified of this trick for a while. It looks a little funky, but it's actually pretty easy. You just need to have some anger in your jump and some tenacity in your torque.
Slide by slide breakdown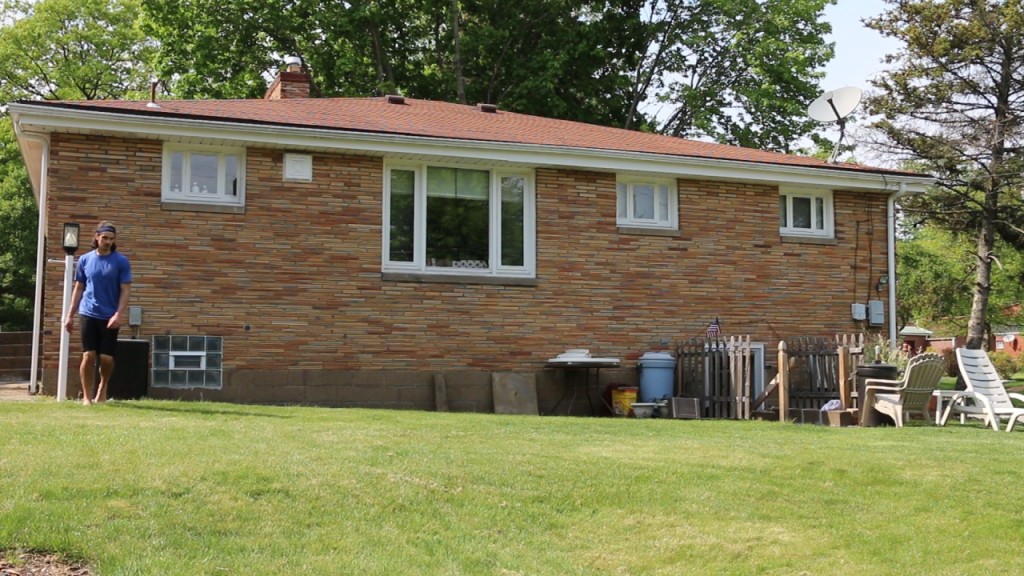 Stare at an ant crawling in the grass a few paces ahead of you. Don't kill the ant. Ants are cool. Unless they're in your house and crawling everywhere. Not cool, ants.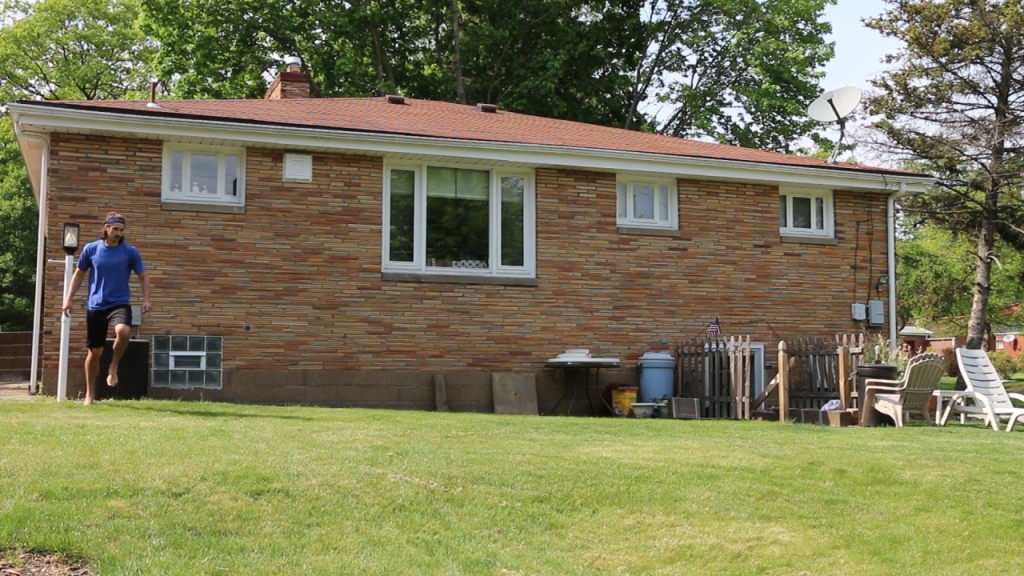 I move to  my left, so I bring my left leg up for a little faerie hop. I don't know why, I just do. You can coast into it a different way, as the takeoff is a personal thing. Different kind of jumpers (more strength based, more reactive based) will find that gathering momentum changes from takeoff to takeoff.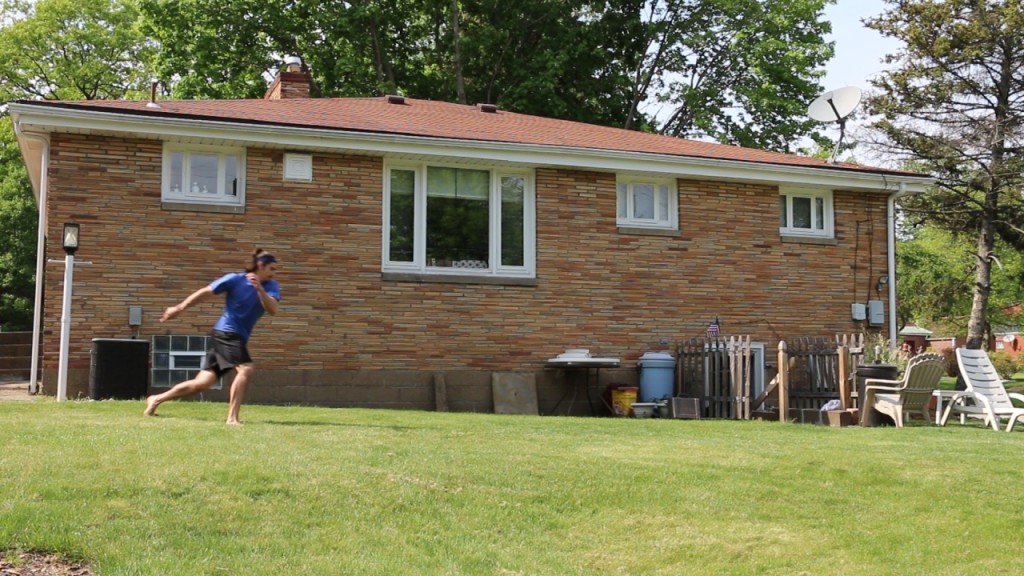 Here's where we get aggressive. After the hop, the right leg crossed over to get me some mad cheddar. Don't be afraid, really. This is basically just a very focused and more intense 360 crescent takeoff. At least, my double leg takeoff is.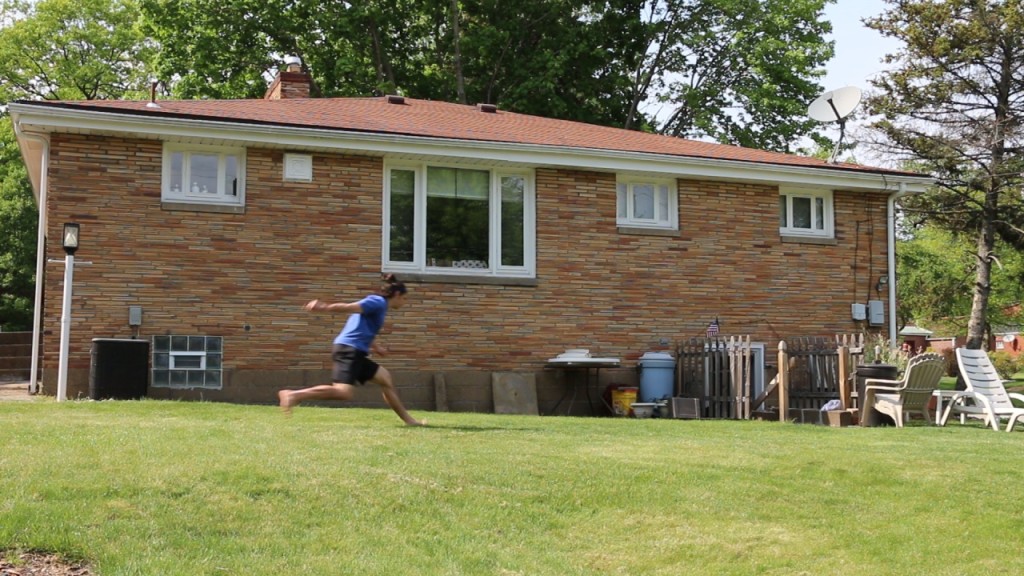 Can you say…blocking? Get that momentum out in front of your body by taking a decent leap with the left leg. Get it out in front! Listen. Listen. Listen. Block. Block. Block.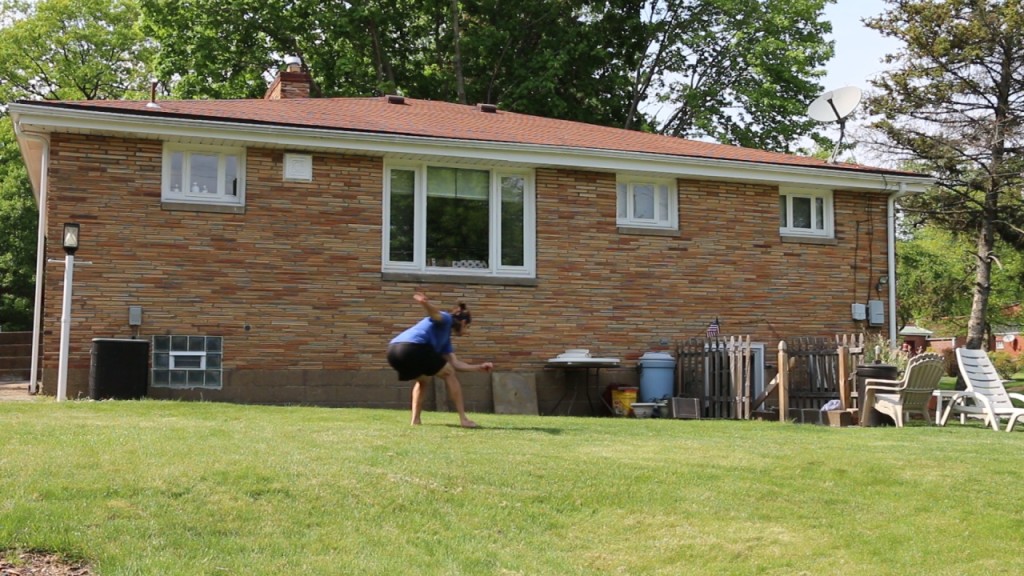 I started facing towards the camera. With the takeoff, I not only traveled a bunch horizontally to get momentum, but I also turned my body over and I'm now facing somewhat 180 degrees away from the camera. Maybe…150 degrees? Either way, that's just getting horizontal and rotational momentum on my side.
Things are basically very 360 crescent at this point, save for one little bit: I'm just a tad bit deeper in a squat right here. This comes from the hips, not the back. In other words, I'm not thinking about leaning over right now. Instead, I'm thinking about pushing my hips back.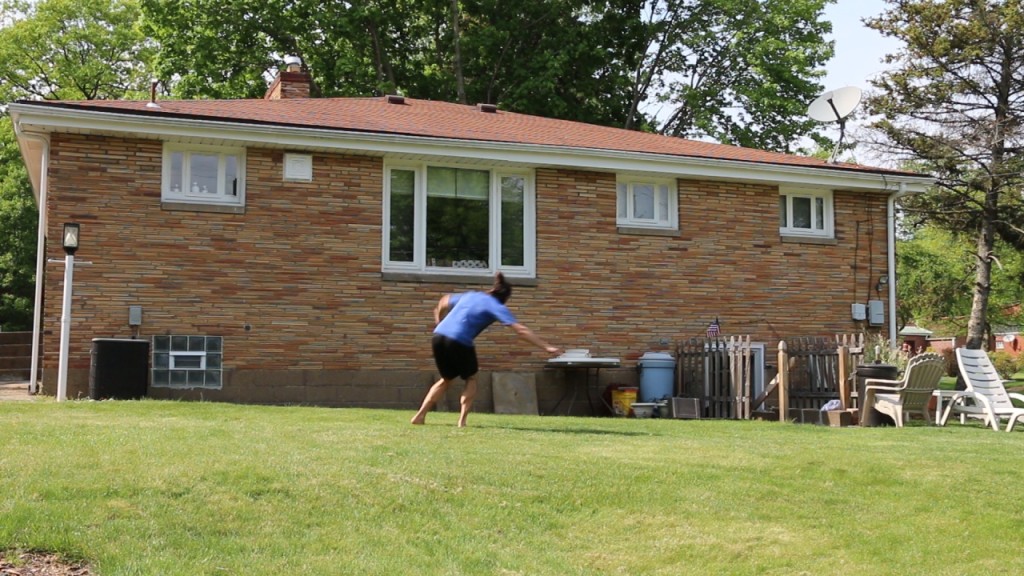 This is the beauty of blocking. My torso is leaning, but I'm not jumping out. I'm jumping up! Jump straight up on this move to get your maximum height. All of that takeoff magic will keep you going horizontally. It's your job to jump up once your feet plant.
And with that jump up, you want to violently torque your torso to the sky. Lead with that front elbow (it's my left elbow). See it coming up? It's going to torque hard to the sky. And that's another big difference between the 360 crescent and the double leg. On the double leg, torque your torso to the sky. On the 360 crescent, you torque your torso so that you can stay upright.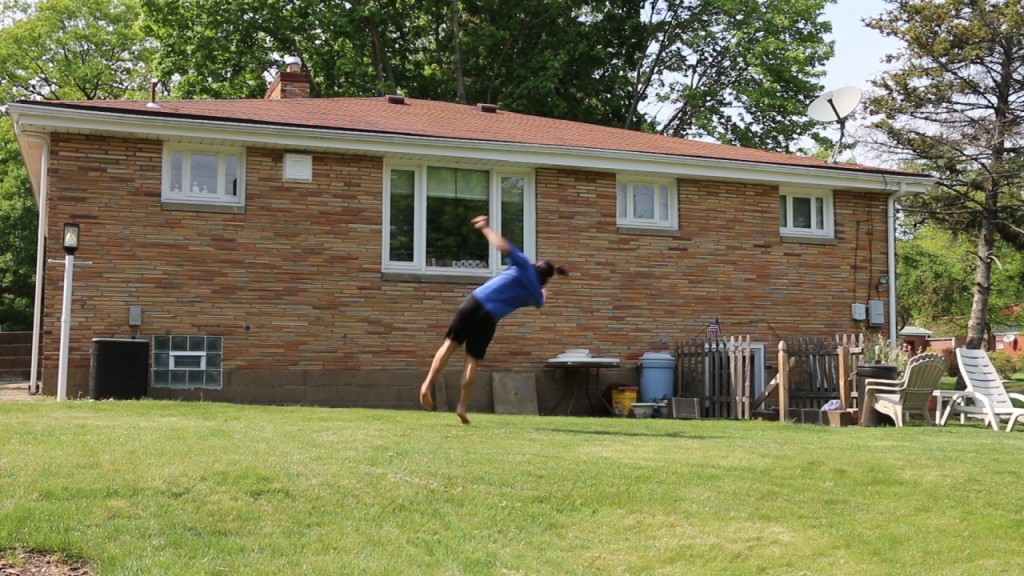 See that lead elbow? Torquing the torso will guide the lower body. Save for jumping, I don't actively think about making my lower body do anything during the double leg.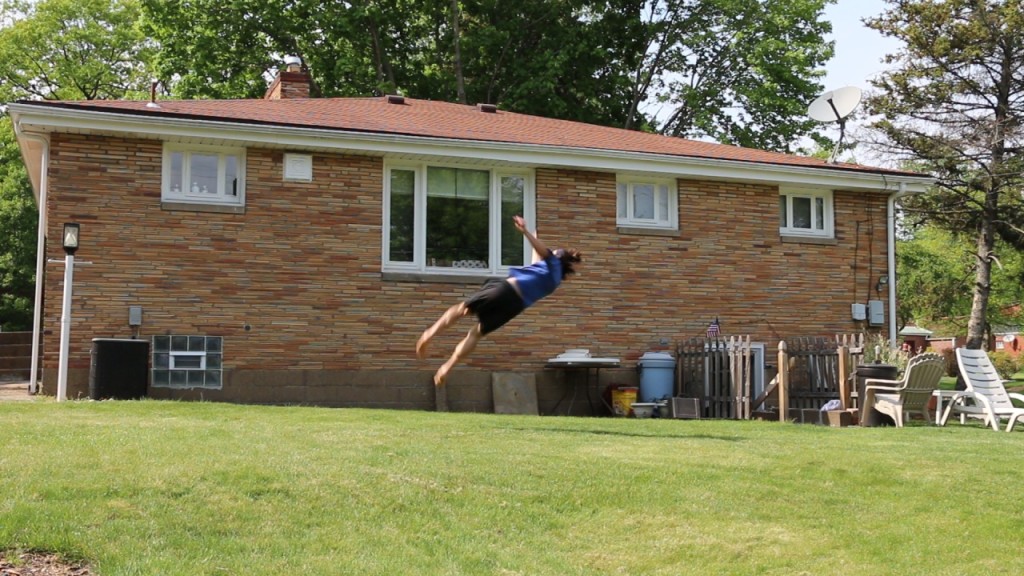 All upper body right now. Legs will whip over if you get that torque going.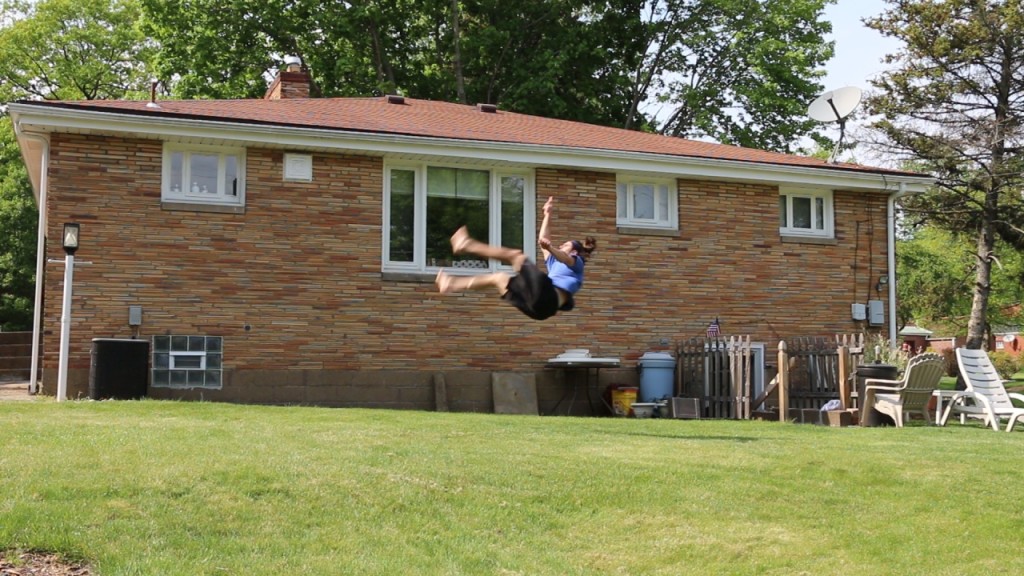 Alright, now here's my disclaimer for you: I've always double legged with bent legs. I can do it with straight legs when I actively get myself to, but I usually don't — let me tell you why.
A lot of people that land with their knees locked out end up hyperextending their knees, or even worse: tearing their knee to hell (ACL, MCL, that whole business). Seriously. See how many people tear their junk up doing combos like cartwheel-front flip where they have the potential to "open up" before they land. I'll keep my ugly double leg for a pair of healthy knees, thanks.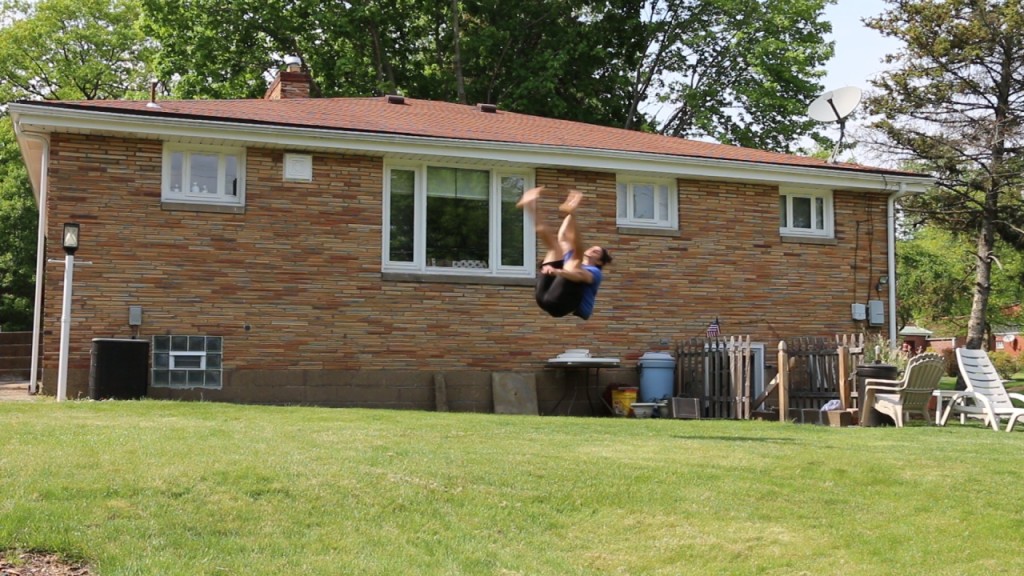 I could straighten out my knees here. That whole knee protection stuff? Probably a mental excuse I tell myself to validate my ugly form. But, uhhh, yeah — the move: it's really "over" at this point. Everything happens in the first 60% of the trick. Now you're just a slave to gravity.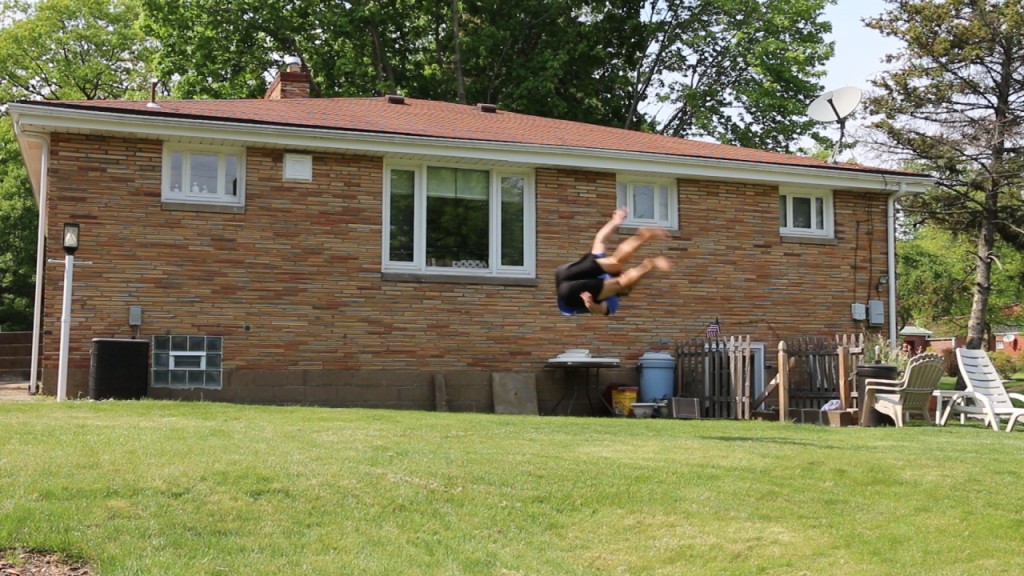 Some people go more over the top (like a backflip) with their double leg. Some of mine end up like that at times. It all depends on your initial torso torque. If you go up over your head more, you'll have more of a backflip flavor to your double leg.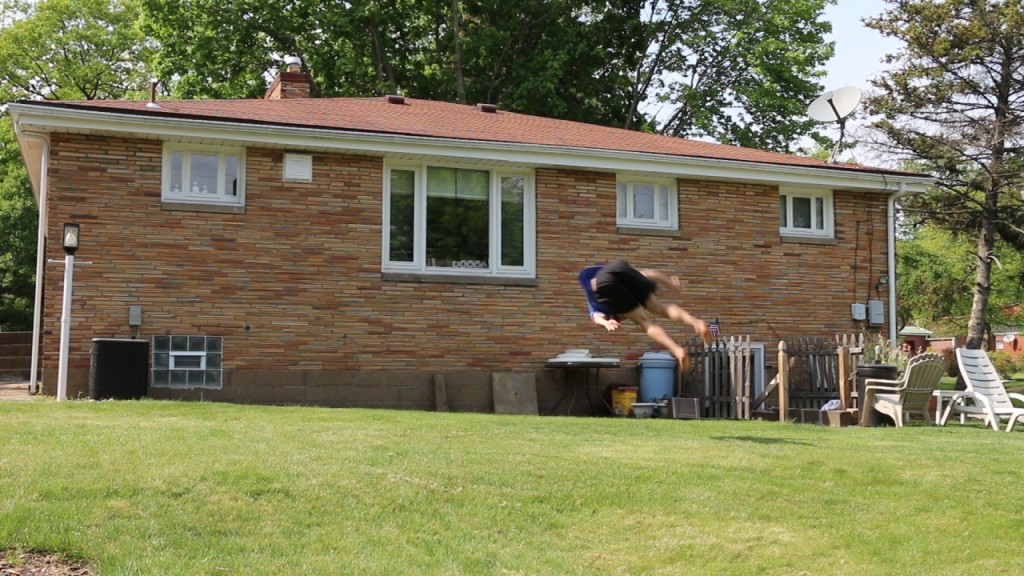 Ejecting the landing gear.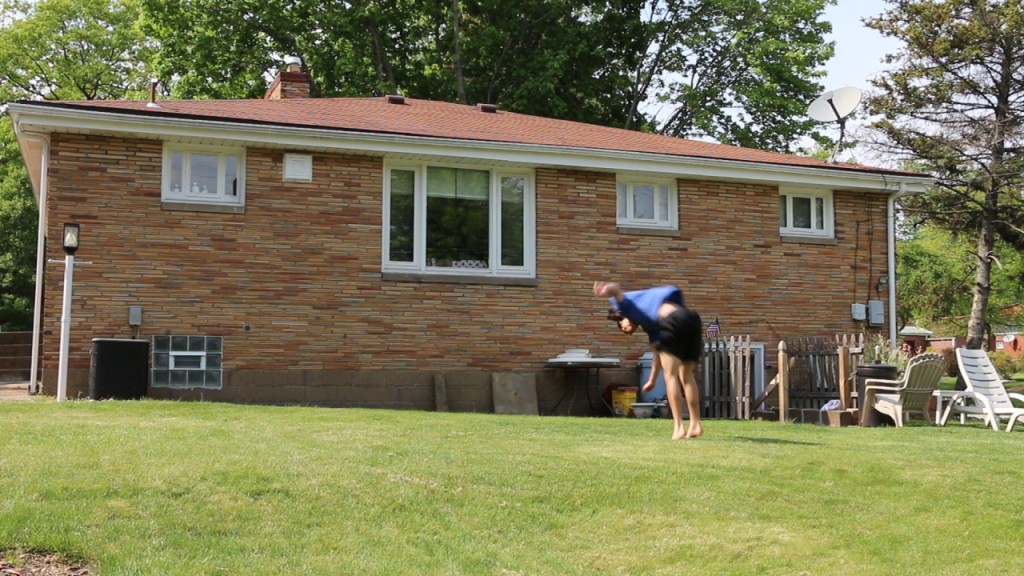 Now you know why you need some strong ankles to become a trickster.
Recap cues:
Takeoff is huge. Block. Go horizontal.
Turn a bit before takeoff. Don't face the initial direction.
Torque torso to the sky and jump up.
Keep your legs as straight and together as you're comfortable with.
Troubleshooting:
Can't conceptualize it? Think 360 crescent, only torque your torso to the sky, jump as hard as you can, and keep the legs together.
Landing on your side? You probably don't have enough horizontal momentum. Rethink your takeoff.
Landing on your side with good takeoff? You need more torque. Jam that elbow around and to the sky.
Your next conquest: