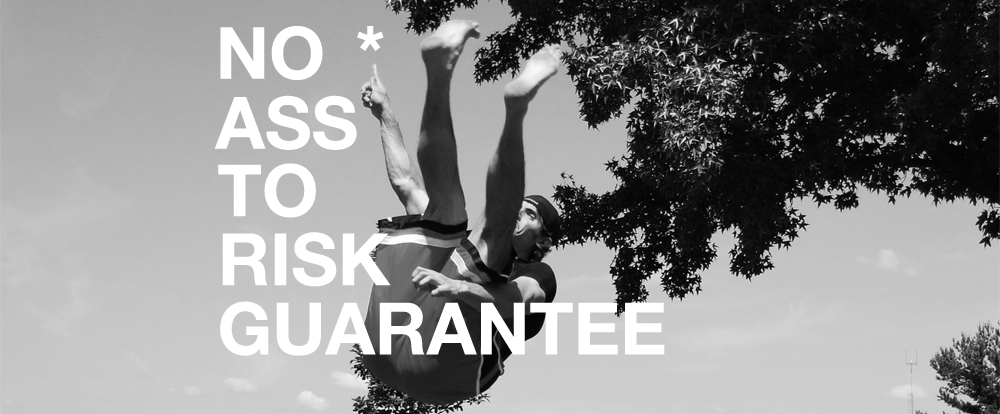 This internet world can be a shady place. Back in the early 2000's, I found a website about tricking and training that changed my life. It was run by one dude, just wanting to help others out. I know the kind of impact some random person online can have on your life. I want you to know that I'm a real person behind this here computer screen.
I write because I want you to read and benefit from the information without hassle. That's why you will never have any pop-ups that obnoxiously blow your face up. In an age when everyone is capturing your attention with flashing lights and other distractions, I want to simplify. I want you to read. I want you to succeed.
And that's why I created something I call the No Ass-to-Risk Guarantee. I hate it when drawbacks and points of interest are hidden at the bottom of screens in tiny text preceded by asterisks.
Not here.
The No Ass-to-Risk Guarantee was designed because…well…I don't want you to feel like you're risking your ass to do business with me. And, well, because I've eliminated all asterisks. Here's how this effects you:
1. You buy a product, you get free revisions…forever.
After you buy anything from me, you have the option to subscribe to free product updates. This means any future version or revision of the product that comes out will be delivered to your inbox. No questions asked.
2. Your satisfaction is my guarantee.
You're welcome to return any product that doesn't meet your expectation at any time. If my retailer's return policy has expired, I'll take care of it in house.
Keep in mind that because of this generosity, I reserve the right to flag customers that are repeat or junkie returners that don't keep up communication with me. I understand if something doesn't meet your expectations, but I'm doing all of this to better serve others. So I'm always looking for ways to make my products better.
If something doesn't meet your expectations, I'd love to talk to you about ways I could better serve your needs.
3. You know what you're getting in to.
I've always believed that learning what not to do is just as important as learning what to do. I'm not afraid to say who the product is for just as I'm not afraid to say who the product isn't for. And I always make this clear.
4. You know how to contact me. 
Although this is a one man show, it's still a one man show. You're dealing with a human that always takes time to respond to personal e-mails. So feel free to let me know if you have any questions about any product.
anthony /at/ anthonymychal.com