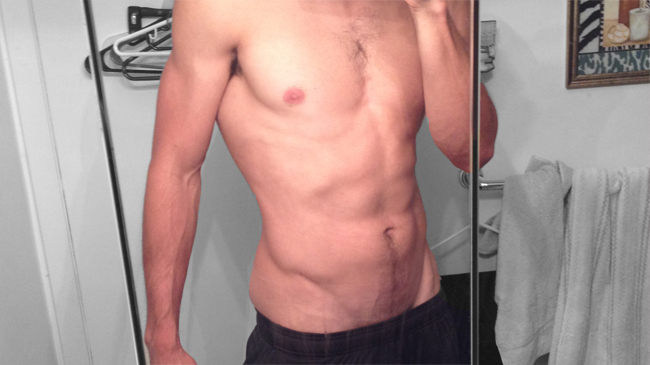 I'm the prime suspect in an ongoing love handle obsession investigation. I'm eighteen years old. I have a six-pack for the first time in my life.
But the love handles…
The love handles aren't budging.
I stare in the mirror, wondering if the utters of blubber jutting from my hips will ever go away.
I stare for six months. I'm freaking out. I'm cramming fat loss mode for moons beyond the norm.
My physique reflects the level of discontent my mind endures; my body withers into nothingness.
Live and learn, they say.
Because I sit here now, nearly ten years later, with a note my eighteen year old love handle obsessed self needed.
↓
You're going to have love handles for a long time if you keep believing you have love handles.
↑
The picture you scrolled past? At the very beginning of this? That's me. Current day, October 2014. Low body fat. Love handled. 
…right?
Flip things to Miranda, a NPC Bikini Competitor. I don't know Miranda, but I know she has an Instagram account. (You're welcome, by the way.) She's a great example of the lean and love handled…
…because she has no love handles.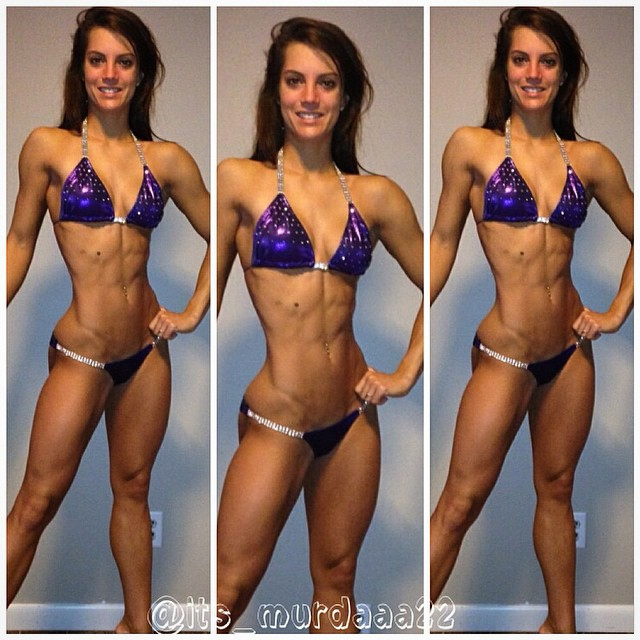 What some perceive to be "love handles" aren't really love handles. Sometimes they're not even body fat, as in Miranda's case.
The thing you see (what some see as love handles) is a muscle, more specifically the giant hip muscle(s). 'Yaknow — junk in the trunk.
She's the false love handle prototype.
According to Miranda, her waist is twenty-four inches. Her hips? Thirty-seven inches.
With a waist-hip spread like that, something's gotta' give — you have a narrow top that blossoms into a wide bottom. The body isn't a disjointed mass. There has to be some connection between neighboring parts.
When you're as lean as Miranda, you can see…oh crap, that's just a giant hunk of muscle. But if you have body fat covering this area, you lose the hard sculpted delineations and are left with soft slopes.
Doesn't take much either. A thin film of fat creates the curves. See another picture of Miranda below to understand what I'm talking about.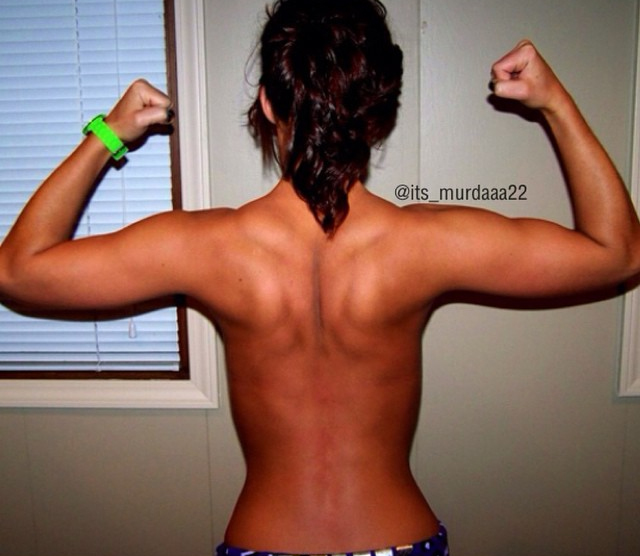 With certain body proportions, just a little bit of fat is enough to convince yourself that it's all fat. And losing fat can make your "love handles" seem even bigger because you lose the fat around the waist, but the large hip muscles remain.
Now, I can tell you this, but will you believe it?
Maybe. Maybe not.
I probably wouldn't have believed it. I'm stubborn like that. I would have went on and made the same mistakes only to learn, uhh, nine years later.