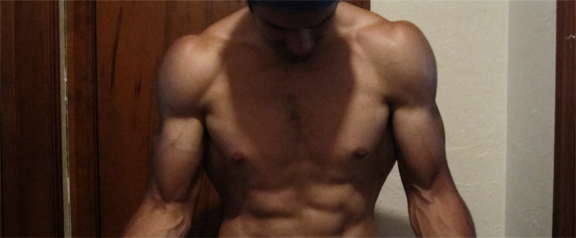 Last year, I wrote an article on my feelings on whether or not someone (especially skinny-fat sufferers) should bulk or cut (read it here). I still get tons of questions on the subject, most of which go something like this: "I read your article, but I was wondering if I should bulk or cut? I'm "x" height and "y" weight. I don't have a lot of muscle, and if I cut I'm afraid I'd be really underweight."
Given the latter half of the question — the bit about being underweight — does my answer change? Should you still cut if you're worried about becoming underweight?
Should you worry about being "underweight?"
Let me start with some tough love: you aren't a delicate and unique flower. I wrote the original article for you, and I'm writing this for all of the other you's out there that have their fingers ready to type this question.
The you I'm talking about, I guess, is the person that's similar to my old skinny-fat self. Part of this whole skinny-fat thing is . . . skinny, so I assume you aren't naturally muscled like Goku. Yet a commonality among most recent Should I Bulk or Cut? questions is this idea of being underweight.
There's a worry for being underweight, which is a viable concern. No one wants to end up emaciated and fragile. But the flaw in this thinking is that we're also talking about losing body fat.
You can't really be underweight and overfat unless you're going by BMI, and the BMI is a sham of a tool used by medical professionals on primarily sedentary populations.
You are not underweight.
But you are something else.
You aren't underweight, you're…
You probably aren't underweight unless you look like one of those models. You know, those models. And yes, I'm talking to the men out there. What you are, instead, is undermuscled.
The only way you're going to turn into an emaciated pile of bones is by starving yourself of nutrition and starving yourself of strength training. If you hop on a good strength program and get your nutrition in check, you will build muscle if you're a newbie to training. Ergo, you can gain muscle and lose fat simultaneously. And there isn't anything much sweeter or heralded in the training world, so you better soak it up before the tough get goin'.
There still, however, persists a fear.
"What if I don't gain muscle?"
And if that's the question, I ask: why won't you gain muscle? There are many quality programs out there for free, and then there's The Skinny-Fat Solution.
Chances are you're telling yourself a story of muscle gain and fat loss. You hear all of the tales told by the experienced, battle wounded guys about muscle wasting away on "cuts" and calorie deficits — something that can very well happen. But the logic isn't quite there because you probably aren't experienced enough for that reality.
I'm just one dude, but I gained muscle on a shady training program when I was a newbie while simultaneously losing body fat. I didn't get hyooge or anything, but you can see a visible difference in the amount of muscle I was carrying.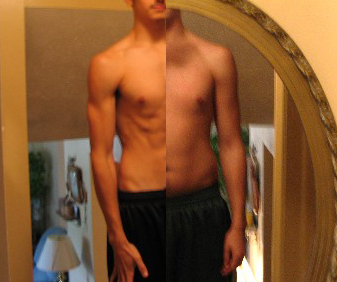 So I'm not saying you're going to blow up as you lose fat, but you can surely add some meat on those bones. If you go at things better than I did — and you will if you browse around my website and get to know good training methods — your results will only be better.
Ah, but there's another caveat.
"I'm not a beginner, so I won't be able to build muscle and lose fat."
To that, my answer: if you aren't a beginner then you have to already have some muscle on your bones, which means you won't be emaciated. You might be skinnier than you'd like, but you wouldn't be underweight. You can't be underweight and have muscle tone unless your definition of underweight is something that really isn't underweight.
Capiche?
Now, if you're worried about being undermuscled, then that's a worthy concern. I'm not going to pretend like I wasn't rather skinny in my after picture above, despite adding muscle to my previous frame. But if you start from that base structure, all that's left is dialing into your training and nutrition.
From there, you can build muscle without getting fat. That's not to say you can build hundreds of pounds of lean athletic hybrid exotic <insert flashy word here> muscle tissue in ten weeks. But with something like the Chaos Bulk, you might just add that 10-15 pounds of muscle that makes you to feel good about yourself over the span of one year. And then when you throw another year on top, you look like a new person — all while never fattening up like a cow and never doing a devastating calorie deprived hamster treadmill treading cut.

What it comes down to…
I think people have this impression that they're going to build all of the muscle they want in one short bulking cycle. This bulk will obviously include some fat gain, as all popular "gain as much weight in as little time as possible" bulks seem to end up doing.
But there's a greater-than-great chance that you won't build an amount of muscle you're satisfied with on any "bulk" that lasts less than three-four months. And if you can't do that, that means you're looking forward to a life of many bulking and cutting cycles.
If you're skinny-fat, you've lived with the "fat" baggage long enough to grow tired of it — at least, that was the case with me. In that respect, slashing the fat and then building yourself up brick by brick over time is much more mentally calming. You can be confident about yourself body fat wise, even if you aren't there muscular wise. In contrast, on a bulk, you'll have neither.
Just from my experience, it's going to take one or two years to build the muscle you want to build, regardless of going on a "bulk" or not.
That should peel another layer off the Should I Bulk or Cut? onion from my perspective for now, but I wouldn't be surprised if we have to go one more layer deep down the line.