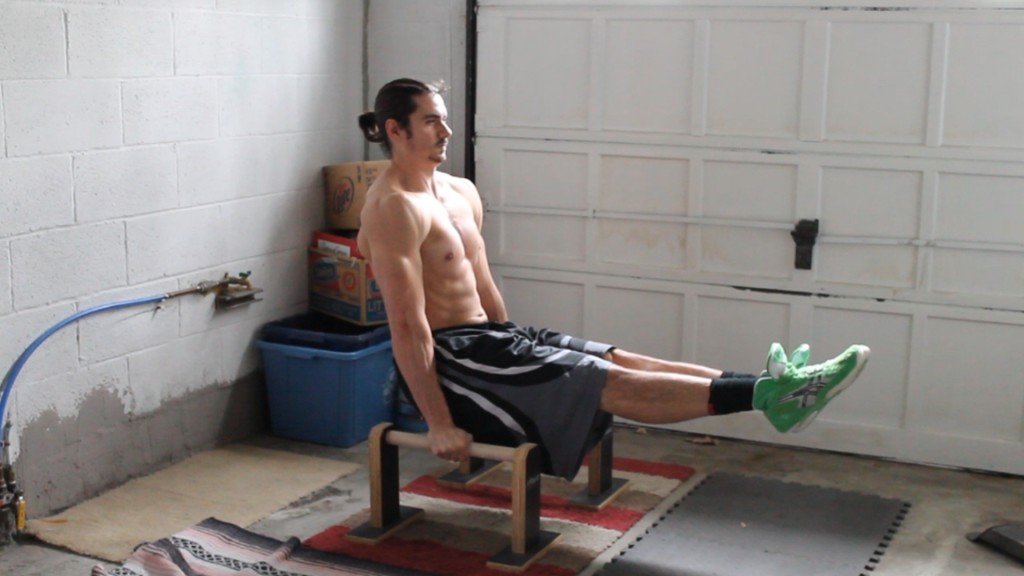 Last post we waxed some context by basically saying that both "barbell training" and "bodyweight training" are ambiguous concepts that need a stronger definition. Being an Olympic weightlifter is "barbell training," as is being a powerlifter. Being a gymnast is "bodyweight training," as is being a twelve year old kid struggling to do five push-ups while watching Dragon Ball Z. (That last example may or may not be self anecdote.)
So the first step is really clarifying not only where your abilities are now, but where you want them to be in the future — you need a some sort of compass guiding your way.
Beyond the philosophical introductory layer, we can start to look at the differences between barbell and bodyweight training. And this topic is probably best seen under the direction of the age old question:
Is it possible to get good gains with just bodyweight training?
Stated another way, is there something one does that the other doesn't? 
In my opinion, absolutely. 
The body only knows tension…right?
Talking about the differences between barbell and bodyweight training starts with a heuristic often thrown around: the body doesn't know the tools, it only knows the tension. 
The body only knows that it needs to strain a certain amount to overcome an unfavorable situation (like being nearly crushed by favorably arranged hunks of iron). It doesn't really say, "This is a barbell. This is a kettlebell. This is a dumbbell. This is…," and then go on to give special attention to one tool over another.
And because of that, the body doesn't necessarily respond in any unique or special way to any one piece of equipment, which brings us to this:
There's no difference between barbell and bodyweight training because it's all about tension produced; as long as you're producing the same tension, you're good to go. 
Right?
The trouble with tension
The most tension my calfs have ever experienced come at 2AM in the form of muscle cramps, and I don't really see those as training sessions. (Although maybe I should keep a post-workout shake on hand every night, just in case!)
This view of tension is a problem because everything becomes muscle, muscle, muscle. We break our training down by muscle groups. We massage muscles. We gauge fatigue on how our muscles feel. We look at muscle tension.
We ogle over muscles.
But training and tension taxes more than the muscle. Consider that the muscle itself funnels into a tendon and that tendon funnels into bone. All of these things remodel under stress, not just the muscle. And then there's the nervous system, endocrine system, immune system — yeah, you get the idea.
Training isn't necessarily about tension…
Training is about stress.
In order to really compare the two, we have to take a look at the stress each form of training makes the body deal with.
STRESS GIBLET #1 – ORGANISM EFFECTS
Although you can tax muscles with bodyweight training, the over all systemic effect doesn't quite match up to the blow you can deliver with a barbell.
You can produce tension in the upper body pressing muscles with a push-up, but compare the systemic effect of a push-up with something like a bench press. In a push-up, you only have a certain percentage of your bodyweight being born by the bones of your arm — a percentage that always depends on your own bodyweight. With the bench press, "weight" isn't a limiting factor, so you can load up the bar with more than your bodyweight (pending strength), which generally makes for a greater systemic overload.
This systemic effect potential of barbell exercises often can't be replicated with bodyweight exercises because you can't "load" the system in the same way. (A lot of people smarter than me often say that loading the spine make for great neurological demand.) You might be able to create comparable tension, but that doesn't exactly equate to comparable stress. 
In a sense, you can say that barbell exercises can be more fever (widespread effect). Bodyweight exercises can be more head cold (local effect).
STRESS GIBLET #2 – TENSION (HEADACHES)
Let's jump back to tension. Beyond systemic effects, you might be able to create comparable tension with bodyweight exercises.
Might. 
To understand this, we have to bring back to the bodyweight levels from last article.
LEVEL 0

Bodyweight squats, push-ups, inverted rows, etc.

LEVEL 1

Cossack squats, chin-ups/pull-ups, parallel bar dips, etc.

LEVEL 2

One arm push-ups, one arm chin-ups, pistol squats/shrimps, etc.

LEVEL 3

Levers, planches, handstands, and other floor/bar skills.

LEVEL 4

Basically the third level done on rings, and other advanced ring skills.
It's not simply about producing tension, it's about being able to scale tension overtime to continually challenge the status quo of adaptation. These layers put scale and tension in perspective given your current ability.
If you're below LEVEL 0, then working towards LEVEL 0 will likely give you the tension and stress you need to see change. Same can be said of LEVEL 1. But once you pass LEVEL 0 and 1, scaling tension and overload is tough.
I'd bet you'd gain muscle taking yourself from being able to do one push-up per set to twenty. But twenty to thirty? To one-hundred?
Not so sure.
And so when you get good in the LEVEL 0 and 1 range, often times high training frequency is one of the only ways to continue the overload. You're not really producing the same high tension (because you're stronger), and so the only way to amass more is to do more.
Of course, you can move onto a higher level, but that doesn't come without hiccups.
LEVEL 2 STRANGENESS
Something funky starts to happen around LEVEL 2. It would seem that, given the skills are tougher, they'd naturally overload the targeted muscles more than the lower levels…but that's not always the case. 
Let's take the one arm push-up, for example. By all means, supporting more weight on one arm means more overload. It also means more responsibility for the bones, tissues, and entire upper body pressing structure.
Things look good.
Except that, for a lot of people, the limiting factor in the one arm push-up isn't necessarily the pressing strength, but rather the torso strength and being able to lock down and stabilize the the offset loading. Same thing happens with the pistol squat. Single leg makes for more stress than any bodyweight bilateral version, but poor ankle mobility — not leg strength — is often the limiting factor.
Moving up the chain into LEVEL 3, a weak set of wrists can (and likely will) limit the maximum tension you'd be able to produce up the chain and into the chest and shoulders. I could go on and on, but the main message is that for a lot of bodyweight exercises, technique (on some level) interferes with the ability to produce decent tension.
A quick recap
The body doesn't know tools, only tension…but there are two caveats:
Tension is nice, but it doesn't represent the totality of what's going on inside the body – the total stress. 
Even though bodyweight exercises can produce some worthwhile tension, they can also be self limiting.
Naturally, this makes it seem like I'm flushing bodyweight exercises down the toilet, but I'm not doing that at all. (So to all you zealots ready to bash my face in: have patience.) Some of the bodyweight training's supposed downfalls are actually upsides. And besides: barbell training ain't perfect either. This is why I think combining them both is ideal, and that's something we'll keep unraveling next time.