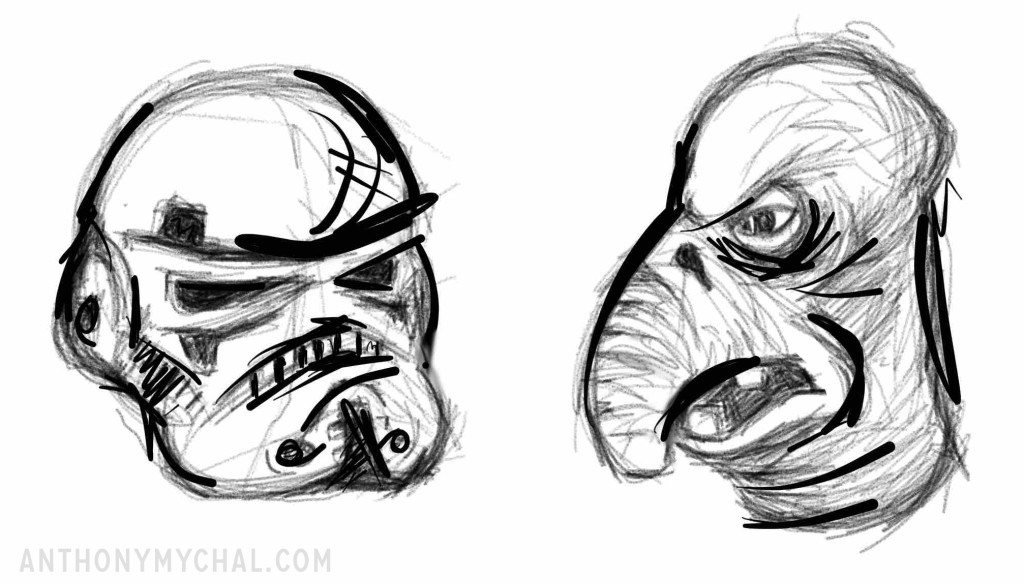 Luke: I don't believe it.

Yoda: That is why you fail.

- Star Wars
Vaulting through your veins is the power to believe gains into your being. Force Lightning? Pssshhh. I'm talking about Force Gains. People use Force Gains all the time . . . unconsciously.
Stan's doctor hooks him up with back pain medicines. Stan gulps the meds down religiously. Stan feels better. Little does Stan know . . . the pills weren't medicine. Just sugar.
It's the belief that provides the relief.
This is a post is a necessary first in order to uncover the power of belief. Just as Stan believed relief, you can believe for your own good. And it starts with hardware and software. The mind (software) is a circuit breaker. When the circuit trips, the hardware is useless.
And what trips the fuse?
Belief.
Not "Truth."
Belief > Truth when modding human software. But before reaching that end, there's a necessary starting point. (We're dealing with capital letters now, so you know it's getting serious.)
The Jedi, the Toydarian, and the Stormtrooper
"You must unlearn what you have learned."

-Yoda
You think you're the Jedi manipulating the lesser minds. These aren't the droid you're looking for. 
And if not the Jedi, then at least the Toydarian. Mind tricks don't work on me, only money. 
But you're most like the stormtrooper. On Tatooine. Outside of the Cantina. Getting owned by Obi Wan Kenobi. Hey, Jim, 'ya heer 'dat? These aren't 'dem 'dere droids we 'don been looking fer! Fancy 'dat! Big Gulps, huh? Ohh, alright. Welp, see ya later!
It's a scary day when you face your stormtrooper self. When you find out just how vulnerable you are to mind tricks.
For example, you fly out and meet Internet friends for the first time in real life. You stay at someone's house for three days. All the while your body magically has no desire to excrete waste.
Your stormtrooper-self kicks on. Well, I flew on a plane. It was the plane. The plane is the reason why I can't poop! Yes! The plane! THEEE PLANNNEEE!!!!
Maybe you're not a socially awkward introvert like me and you ravish the toilets of those you don't know. Don't worry. You make faulty connections between events somewhere in your life. This is the land of cognitive biases. And it's a scary place. So scary that there's immediate push back in the opposite direction.
Your Toydarian self kicks on. No. I'm not going to let my stormtrooper-self do this to me. I'm going to be completely economical. No emotion.
But this is no good either. As Daniel Pink says in Drive, ". . . economists are finally realizing that we're full-fledged human beings, not single-minded economic robots."
There's a gooey emotional side of humans that, when harnessed, is a powerful and necessary ally. You want to be a Jedi. You have to play mind tricks on yourself. Force Gains.
But it takes more than one night to become a Jedi Knight. You have to embrace the fact that you're part stormtrooper. You have to embrace the existential paradox this whole shebang gifts: the more you learn, the less you understand.
Much easier to cocoon yourself within a silk robe of ignorance, myes. Save your sanity with these two pillars.
First, you must be Jon Snow.
What? Who in their right mind switches from Star Wars to Game of Thrones?
Oops. My bad. Kind of.
Socrates beat Jon Snow on this one, but the premise remains: know nothing. And know nothing for the same reason Socrates wanted to know nothing: so you don't fool yourself into thinking you know something you don't really know.
I am wiser than this man, for neither of us appears to know anything great and good; but he fancies he knows something, although he knows nothing; whereas I, as I do not know anything, so I do not fancy I do. In this trifling particular, then, I appear to be wiser than he, because I do not fancy I know what I do not know.

- Plato's Apology
There's a lot you think you know that you don't really know. You're part stormtrooper. You've been manipulated many times in your life. Advertisements. Billboards. Commercials. Your brain ingests more information in an unconscious state than a super obese person ingests food in a conscious state.
Second, you must be Albert Einstein.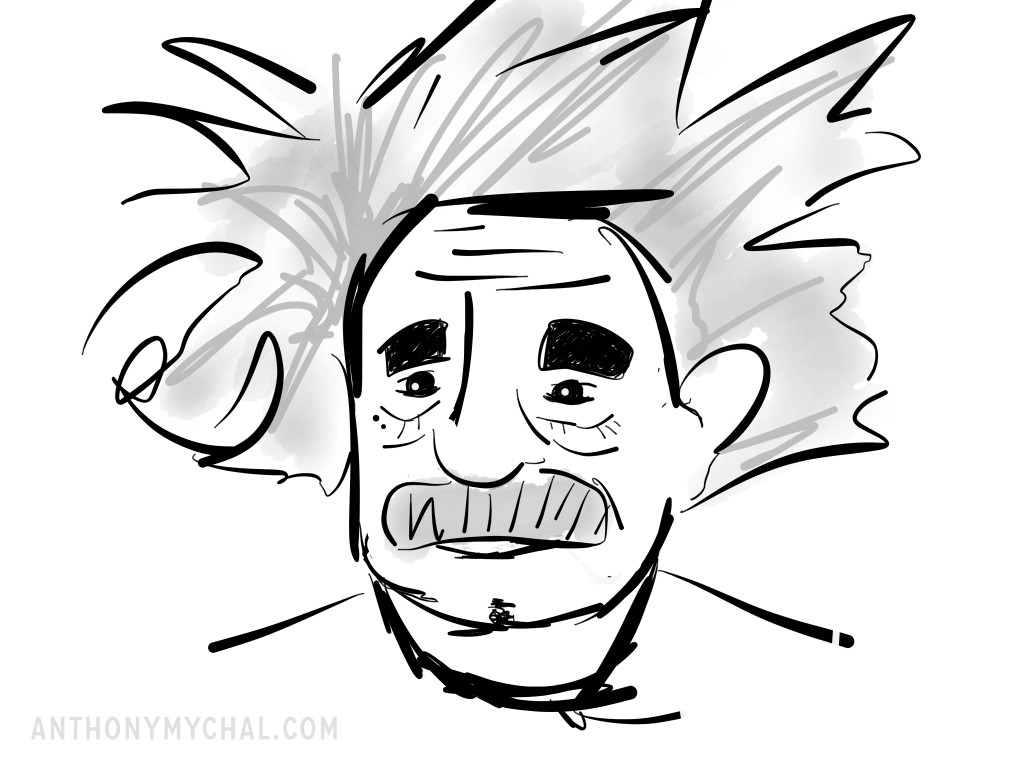 Start from nil and abandon conceit. This is the way of Socrates. And it's a lonely pace. A scary place. I'm scared right now because I'm writing about things I don't totally know about.
But I write anyway because I write from a place of curiosity rather than a place of knowing.
Einstein once said he had no special talents. While that's debatable (aliens!), it's what Einstein said he had instead that's the second source of fuel: a curious passion.
It's easy to say be passionate, curious, humble, rah rah rah. Much harder to do, and it's worth reminding yourself to do every day you wake up.
Those with a curious passion ask, "What am I unconsciously ingesting? What are commercials trying to brainwash me into thinking? Billboards? Packaging at the grocery store? Even the set-up and flow of the grocery store?"
I'm a skeptic. You have to be skeptical in order to have a curious passion, else you never reach the right level of curiosity.
There will be a time when you think you know a lot more than you do. Like me. Right now. You're human. You'll always think this. So don't feel bad when you do. Just flush it down your brain's toilet.
But why…?
Because a lot of what holds us back isn't hardware, but rather software. There are layers of software to get past.
First, there is the land of instant solutions.
Second, there is the land of absoluteism.
Third, there is the land of omgwtfbbq confusion.
Fourth, there is the land of the Jedi.
So everything starts dumbed down. Easy. Then you dig more and realize it's a bit more confusing. So you try to find one size fits all prescriptions to make things tolerable. But then you realize one size fits all prescriptions don't exist either. So now you're in a land of randomness.
Nothing makes sense in the land of randomness. You're losing your mind. But then something else clicks. Patterns start making sense. Randomness becomes chaos. Where randomness is unknowable, chaos has a hint of predictability at certain scales.
And when you flow from one end to the other, your software goes from enemy to ally. You can be Stan and use belief for relief. You can master Force Gains.
But to take this leap, you have to gut what you know. Or, at least, what you think you know. It's not easy. Losing your footing is common, which is why things start with (a) knowing nothing and (b) being passionately curious. As Daniel Kahneman said in Thinking, Fast and Slow:
" . . . it is much easier, as well as far more enjoyable, to identify and label the mistakes of others than to recognize our own. Questioning what we believe and want is difficult at the best of times, and especially difficult when we most need to do it . . . "
+++++