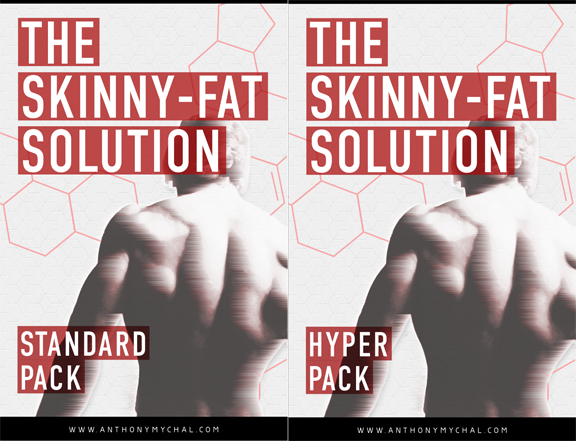 Before we talk about building an "X" physique, sending salutation to stubborn body fat, and surmounting skinny-fat syndrome forever with my freshly released resource, The Skinny-Fat Solution, you need to know some things about me…things most people would keep secret if they were in my shoes…things most people would call scars and would most certainly be embarrassed of.
Early emotional scars
Pepperoni grease glided down my throat as I tore open a package of Pop-Tarts. My gaze was fixed beyond the full wall glass window pane and onto an open field of grass. Open grass fields are an opportunistic safe haven for tricksters. Much like an artist paints on canvas, backyard tricksters paint on fresh green grass fields with an array of flips, twists, and kicks. And it was a place I called home for four years.
Ah, yes. Four years ago. That was when two girls whispered back and forth a few desks ahead of me in Algebra class, peering scantily in my direction. It was one of the few times in my adolescent life that I mustered the stones to talk to a female. And the end result was likely why I chose to neglect female interaction prior.
"You have girl boobs."
Music to my ears.
The last few crumbs of the deliciously processed carbohydrates rode down my esophagus like a surfer, likely using the pepperoni grease as a wave. But I was still hungry. The pizza (Penn State has good pizza, I recall) and Pop-Tarts didn't cut it. My mind was telling me to buy another bag of Pop-Tarts. So was my stomach. But my eyes were focused on the green grass field.
My past—my life—was slowly fading in and out. I remembered the Algebra incident, the self confidence issues, the stretch marks. And just as I was going to get a second bag of Pop-Tarts, the realization materialized.
What the hell am I doing?
Moving into physical scars (stretch marks)
For years I struggled to cope with the mirror's truth: my skinny-fat body. And I was shoving Pop-Tarts down my throat? It had been my dream to turn my skinny-fat body into something…better…ever since religiously watching Dragon Ball Z. The show shaped my desire to build an "X" physique—a body proportion that was opposite of mine.
Where I had string bean arms, a sunken upper chest, dilapidated deltoids, and cheerio sized wrists (consider the propensity to sew satchels of fat around the waistline "whipped topping"), Dragon Ball Z characters had broad shoulders that funneled into a smaller waist with no excess body fat.
My body belonged to a menopausal woman, not a strapping young lad. Ironically enough, I came to this conclusion as I was uncontrollably eating Hot Fries and chugging Mountain Dew Code Red.
(Geeky aside: For example, I was set on looking like Super Saiyan Broly, rather than Bio Broly. It's all about proportion – one of the many things The Skinny-Fat Solution addresses with the "X" physique training program and upper chest guide. It's totally rational to base your physique and existence on cartoon characters, by the way.)

This is all very important for two reasons:
First, I know what you're going through. Unlike others in this field, I wasn't born with a Mr. Miyagi family member that "taught me the ways" when I was five years old. And I didn't learn how train during my "high school football days."  (My high school days consisted of Dragon Ball Z, Runescape, Super Smash Brothers, Zelda, Star Wars, and other assorted video games and animes.) I'm not a physical wunderkind. I didn't play any sports for my high school. While I have credentials, I'm proud not to spout them. I enjoyed working with NFL athletes, and I enjoy writing for magazines, but my garage is my gym, and my backyard is my "home field."
A good friend of mine trains professional athletes. We joked about how relatively weak I am compared to a lot of hardcore strength folk. He mentioned taking steroids, which was undoubtedly followed by, "Scared money don't make none." I told him I didn't know the first thing about steroids, really. Since he works with athletes, he has to know about them, else he loses credibility. (I worked in a college setting, not private setting, which eliminated the PED need-to-know.) But being "natural" and "normal" has always something I've been proud to hinge myself on.
Second, time wasted is time lost. That picture below? That's my lower back and shoulder.

I started tricking in 2002ish. I was motivated enough to trick, but not so motivation to work on body composition. And in 2006, I was still skinny-fat. Still miserable. For four years I let my body get further "damaged." I not only allowed stretch marks grow, but also facilitated their growth. They're still there to this day. I don't pay them mention. But they're there.
Which brings me to The Skinny-Fat Solution.
The Down Low on The Skinny-Fat Solution
Contrary to popular belief, the Solution to skinny-fat syndrome isn't just a program. It's not just schlepping down a fancy table with exercises, sets, and reps and creating a PDF'ed training routine. I mean, it's partly that. You need to train. But it's more so embracing a journey. It's about how skinny-fat syndrome affects your life — no one talks about the why of it all. Why is skinny-fat syndrome such a big deal?
The mental issues of being out of proportion.
The social issues of getting picked on (in my case, being told I had "girl boobs").
Being called "skinny" and "lanky," but feeling puffy and fat. (This is honestly what ate at me the most.)
For me (and probably for you) fixing your physical self is a gateway to a better life. And this is something I want you to realize for yourself. People are surprised when I personally respond to their emails, but it's the least I can do. I want to see you break free. (My email address is at the end of this post. Feel free to say hello.)
I want you to be smarter than everyone else out there. (Those that read my blog are 49.4% smarter than everyone else, recent research suggests, so we're getting somewhere.) I don't want you to fall for eight week solutions. I don't want you to buy miracle pills. I want to see you succeed in the long term.
I'm not going to sit here and pretend like looking "hawt" is the only thing that matters in the world. Your friends and spouse will like you regardless of how you look. But this isn't about them. This is about you. This is about how you feel about yourself.
I created The Skinny-Fat Solution specifically for skinny-fat sufferers; everything inside is tailored to those that live like I once did.
Don't let others tell you what you should want
Here's the thing: even after I dove into training, I was still skinny-fat askew. Since I'm a mesh of performance and physique, I neglected the physique gig because I let other people tell me what I should want. I neglected biceps curls. I squatted myself to death, even though I was on the verge of depression with chronic knee pain.
I was brainwashed into thinking training for aesthetics was vane and narcissistic — an idea spread by those that get up on stage to showcase physical strength. (Not that there's anything wrong with that. The bottom line here is that it's all personal. It's all about breaking personal barriers, regardless of what you're improving: strength, physique, performance, etc…)
What you want is unique to you — unique to the events that shaped your life. No one has lived your life, so don't let anyone tell you what you should want. No one knows your emotional toils. If you want to look seriously well built, don't let anyone tell you otherwise.
The Skinny-Fat Solution is the only thing out there made for a skinny-fat sufferer, by a skinny-fat sufferer. And it was designed specifically for conquering skinny-fat demons, be it physical scarring, emotional scarring, or otherwise. I share your scars. And I want you to either prevent them all together, or stop them from growing further.
Looking back, The Skinny-Fat Solution is what I would have handed myself oh-so long ago. Perhaps if it had existed, you wouldn't been seeing "my scars" here today. Consider it your gain. And check out The Skinny-Fat Solution if this is all something you're interested in. Regardless, I welcome you to my inbox to say hello. Send me praise, prose, or malice. Pull down your pants and drop a dookie if that's your style.
anthony.mychal -at- gmail -dot- com
Just remember: every day you dance around your desired dream, you're potentially creating scars. Now is your time to stop that from happening.