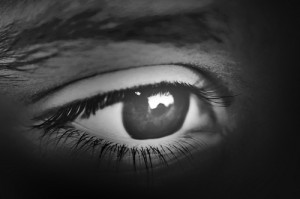 The majority of my adolescent life was spent wishing I was someone else rather than myself. Before that even, I admired and wanted to be my big brother. Although having heroes is normal, looking back, there's something disturbing about this. It's an open acknowledgement of hating yourself.
Yeah, weird.
Yet I, along with many others (trust me, I get the e-mails), have suffered from this.
A few weeks ago, a user commented on one of my posts. He asked something along the lines of, "Are you technically still a skinny-fat ectomorph?" My response was both yes and no.
I'm not terribly skinny anymore. (I could stand for more muscle on my frame though.) I'm certainly not fat. But it's not like I'm different than person I used to be. I didn't jump out of one body and into another. I'm defined by my past, just as you're defined by yours. This is why I wrote Part I and Part II to my Solutions for the Skinny-Fat Ectomorph series, in addition to this little note.
What you did and what you're doing affect where you're going to end up.
The important part of that tricky sentence above is where you are. If you're anywhere like where I was you need find a way out. Immediately. As childish and playful as wishing you were someone else is, it won't take you far. Idolizing is dangerous, and will leave you with unrealistic expectations.
The solution?
Own whoever the hell it is that you are.
There are some things you just can't change—some things that are unique to you.
For example: I'm tall and my pressing ability sucks. This past week, my gymnastics rings came in the mail. All went well until I tried doing dips, upon wherein my arms immediately became twizzlers.
Recently, I started posting "Athletic Fitness Tips" on my Facebook and Twitter page.
Athletic Fitness Tip #10 was:
Be yourself; trying to be someone else sets unrealistic expectations.
Athletic Fitness Tip #9 was:
 Exercises on gymnastics rings are a sonuvabitch. And that's why you need to do them.
(I number them because I'm cool like that.) I was met with the following responses.
I found out today that the only gymnast who can properly victorian on rings is 5'2 and under 130 lbs. I never had any plans or dreams of pursuing that, but I think knowing of the whole height and weight difference thing firmly rules it out.
They [gymnastics rings] aren't kind to lanky arms.
Now, I have a neat theory explaining why us taller, lanky folk can't press well. (There will be a future blog post on this entitled something like, Dear Tall Guys: Why You're Pressing Sucks Shit. If you don't want to miss it, sign up for my newsletter using the neat little form at the bottom of this post that reads "Get Free Updates.") Theories aside, for the most part, those with longer limbs lose when it comes to most tasks of athletic fitness. And I'm one of those guys.
According to this infographic, weightlifters have shorter limbs compared to other athletes. Gymnasts, as a whole, are pretty short too. This tool tells me I'm most likely to be a rower or water polo player despite my damndest desires of wanting to be Dmitry Klokov.
Rarely are we the person we want to be. But we can always blossom into the person we can best be: ourselves. Here are some tips.
1) Accept Who You Are
It's trite. It's fuzzy, warm, and cuddly. But you must acknowledge that you are yourself. If you don't, you're going to place the blame in the wrong areas.
It's not:
"Well, my metabolism is slow so I don't stand a chance."
It's:
"Well, my metabolism is slow so I'm going to kick more ass than everyone else."
Your perception of yourself is more important than anyone else's perception of you. Honeslty, I had no reason to wish I was someone else. I grew up with a great family and awesome friends. My loathing was all self-spawned.
You probably have somethings in your lap you love. Somethings that your idols don't have. Hinge yourself on them.
You will never be anyone but yourself, so stop wishing and start doing. Start building yourself into something you love. It's on your shoulders now. You can't change the past, but you can certainly change the future.
2) Find Out Who You Are
Dr. Anatoly Bondarchuk once said that there were three kinds of athletes:
Those that responded to intensity.
Those that responded to volume.
Those that responded to variety.
Now, he also mentions an occasional fourth, but the point here is that you're different from the next guy who is different from the next guy who is different than…
Don't operate under preconceived thoughts. Finding out who you are — in both the training and life sense — is the toughest step because it requires experimentation on your end. My biggest results didn't come until I ignored 98% of the things I  thought I knew about myself, because thoughts often get confused with desires.
Just recently, someone contacted me to join my personal coaching program. He said that he could only really train "heavy" twice per week.
My original thought was, "Awesome, he's experimented enough to know some things about himself," which immediately signals that the person is someone I want to work with. But just to make sure, I asked him the following question:
But have you ever considered that you can't train more than two days per week "heavy" because your training hasn't been properly programmed otherwise?
To which he replied:
That is probably most definitely true.
Find out who you are, don't think you know who you are. You have a lot to learn about yourself.
3) Focus on Your Strengths
There's a philosophy out there that says to prioritize your weaknesses. You know, the "you're only as strong as you're weakest link" type thing.
But focusing on our weaknesses forces us to obsess over things we're already self-conscious about. We don't need to add to the expectations and subsequent depressions. It's a deadly cycle:
You suck at something.
You get upset and put more attention towards it.
You trip a mechanism that says, "More attention equals more progress."
You expect, then, to progress faster.
You try expediting the process.
You plateau faster.
You hate yourself.
You safety pin the superman cape that has been hidden in your sock drawer for fifteen years to your back.
Instead, own who you are by focusing on what makes you feel good about who you are.
What are you good at? What are your strengths?
Find them and then attack them. This builds confidence. Confidence then creates a desire to get to the gym regularly. It actually becomes fun.
For me, my chest sucks. But my back is decent. So I put most of my emphasis on pulling, even going as far as constructing my training split around doing it as often as possible. My weaknesses, however, go in the crock pot.
4) Put Your Weaknesses Into a Crock Pot
The more I coach my little cousin, the more I respect this concept I call "crock pot strength." When he came to me, he could do six chin-ups, maximum. Impressive for a sixteen year old, really.
Instead of running him into the ground, I started him off at four sets of two reps. The first workout was easy. Real easy. But I assured him we were just building momentum and that it would all be fine a few months from now.
Twice per week, we added one repetition to his workload.
Week One, Session One: 2/2/2/2
Week One, Session Two: 3/2/2/2
Week Two, Session One: 3/3/2/2
We got to fives, one rep shy of his previous previous one set max.
Week Whatever: 5/5/5/5
He handled it just fine. And that's precisely why I reduced his workload and slowed his progression, intentionally delaying any sort of stalling point.
One day stayed consistent at 3-4 x 3-5, depending on feel. The other day, we continued adding one repetition per week.
This kind of progression is "crock pot strength." Food doesn't cook as fast in a crock pot as it would in the oven, but it does a damn fine job if you give it the time to do its job.
Most of your weaknesses should follow this kind of scheme. Slowwwww and steady progress over time. Else, you'll bang your head against a wall. Repeatedly.
5) Accept What You Can't Change; Fight Like Hell Anyway
Owning who you are isn't a waiving of a white flag. Despite outward disadvantes, no matter what they may be, we should all try our damdest to do most things. We should try our hand at Olympic weightlifting. We should struggle on the rings. We should incline bench press, even if we suck at pressing.
Back when I wanted to be someone else, I dumped my weaknesses for a while.
But your weaknesses will always beckon. You will always be self-conscious about them. And you will always want to improve them. Somehow, someway, they will creep back into your life.
When they do, you will regret not trying to improve them earlier. This starts the dangerous cycle mentioned above.
Weakness are weaknesses. Rarely will you turn them into strengths. So just give them the breathing room they need to develop.
Over time, things will shake out.
CONCLUSION
Andreas Thorkildsen shouldn't be able to bench press 405 pounds according to the general consensus of taller, lankier people sucking at pressing. And while I was at the University of Pittsburgh, there was a wide receiver that could bench press 330 pounds at 6'5″.
Nothing is absolute. Rules are regularly broken.
That's why you need to find out who you are. Don't try walking the same road as someone else. Don't even want to walk the same road as someone else. Find your own. Better yet, create your own.
Everyone has things they are good at, and things that are not-so-good at. Don't confine yourself based on your desires or thoughts.
Hinge on your strengths, use them to build confidence, motivation, and momentum. Accept what you struggle with, and then throw them in the crockpot.
But most importantly, fight like hell. Nothing — not even improving your strengths — comes easy.
+++++
P.S. Drop a comment below and let me know who your heroes were. Mine? Benny the Jet Rodriguez from the Sandlot. There was a stretch of my life where I watched that every day.