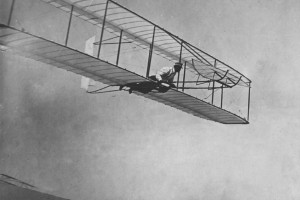 In the early 1900's, everyone was trying to fly.
Some, like Samuel Pierpont Langley, had a stellar education and a host of funding.
Others, like the Wright brothers, had neither.
Yet, as we know, the Wright brothers took flight first.
Some say they bested Langley because they wanted to positively impact on the world. Langley, by contrast, wanted the money and fame.
You can fly like the Wright brothers.
Or you can fry like Langley.
It's your choice.
WHY YOU'RE BORN TO FAIL
What separates success and failure? Is it a training program? A fancy exercise? A new method?
No.
It's none of that.
Because none of that matters unless your heart is in the right place.
Most of us come from the Wright brother background. We don't have Olympic trainers. We don't get daily massages. We don't have razzly dazzly equipment. We don't have insane genetic make-up. We don't even get paid to train.
Yet few people adopt the Wright mindset, which is why few people take flight. They are motivated by the wrong things.
They don't ask themselves "why."
They see crashing and failure as an ending, not a beginning.
They're afraid to experiment.
They're not willing to put in that "extra."
They won't sacrifice blood, sweat, and tears.
They don't make it life.
They don't have a purpose.
They're not doing something that matters.
The Wright brother's journey became the essence of their being. Success starts with wanting a body that matters.
One that makes a difference in your life.
One that lets you wander the world your way.
One that enables the potential to perform any task.
One that doesn't handcuff you mentally, physically, or emotionally.
One that lets you wake up in the morning and love not only who you are, but also what you're capable of doing.
One that makes you come alive.
IS IT YOUR JOB? OR YOUR PASSION?
Building a body that matters means making life your sport. Flying wasn't the Wright brother's job. It was their life. Their passion. Their essence.
When people are out to "burn calories," they're going to a job. Not a passion.
Calorie mongers exist in every junction of every gym.
They're the ones that run on the treadmill for 45 minutes because the CDC told them to.
They're the ones that don't lift "heavy" weights because they heard something from Uncle Earl about "heavy" things being dangerous.
They're the ones trying to tone with the two pound pink chrome dumbbells.
They're the ones that rave about new fancy machines.
They're the ones that have a new program every week.
They're the ones that fall in love with the results, not the process.
YOU MUST AWAKEN YOUR ATHLETE
Passionate people are athletes. Don't get confused. You don't have to actually be an athlete in any sport other than life. You just have to have that mentality because that's when you actually learn. It's when "exercising" becomes "training" and taxes you physically and mentally. Everything becomes a lesson to be learned from.
It takes more than a motivation for "burning calories" to build a body that matters, because you have to be willing to fail, adapt, and try different things all in the name of growth. It's way more than physical stress, and it's hardly "easy."
Ah, "easy."
It's not supposed to be easy. It's not going to be easy. But it will definitely be worth it. And that's why it feels so good.
Anyone can burn a calorie. But ripping five hundred pounds from the floor? Riding a ten foot wave? Chucking a backflip? Or doing any physical challenge for that matter—it's all years of sweat, injuries, dedication and some days of "this kind of sucks."
What separates the people that "get it" from the people that "want it?"
The mindset.
The Wright will.
These people want to love who they are.
They want to be able to do anything in life.
They want to change the way they live.
They want to come alive.
They want to build a body that matters.
WHY BUILD A BODY THAT MATTERS?
Building a body that matters is important because it's the one thing in life you're stuck with. Your car can get stolen. You can lose your job. Your girlfriend can leave you. Your friends can come and go. But even if you're kidnapped and dropped naked from a helicopter in the Amazon, you still have your body and all of the lessons training has taught you. It serves you for life by looking good, moving good, feeling good, and performing good.
The beauty of building a body that matters is that it expands your mind's walls of possibility, helping you do things that represent who you are and growing you into the person you want to be. It's a doorway to physical and personal expression. It builds wings and allows you to take flight, setting sail a new frame of mind open to experience life events and physically express yourself in a way never imagined.
The goal is to wake up, love who you are, love what you look like, love what you feel like, love what you can do, do what you want to do, and change the way you live your life.
For some this is having enough confidence to talk to girls. For others, it's having the mental cojones ski down a mountain. For me, it was tricking and backflipping. But it can be anything—dancing, tennis, climbing, free running, parkour, snowboarding, whatever. It can be the act of training itself. Building a body that matters is building a set of wings that allows you to set sail.
And the only way to do this is to see yourself as an athlete. The pursuit of a body that matters is a sport itself. Life is our sport.
A body that matters can look good, sure. But it's not solely to be gawked at. Training is more than physical stimulation. It's also fosters mental growth. It taps into physiology, psychology, intellect, emotion, and spirit.
In order for this to happen, you have to train with the mindset that an athlete takes when training for a sport. You have to be motivated with the same focus and willpower. Most miss this.
The mental struggle that blooms from building a body that matters is a continual press of physical tipping points—something that infuses into your soul and seeps into the deep fibers of your being. It's all a fight against resistance, which builds character.
It serves subtleties to be learned by regularly engaging in physical and mental toils of that which oppose you—when gravity staples barbells to floors, when alarms crank at 4:00AM, and when "…but I'm too tired…" swims in between your ears.
Learning from the lessons grows more than the body. It gives birth to confidence and, eventually, solidifies a unique personal philosophy. You just don't get this same emotional return when you're out to "burn calories."
Sorry, calorie mongers. But you're losing.
THE ONE THING YOU NEED TO KNOW
When I look around, I see a lot of people that get it. And a lot of people that don't.
But it's not a program that splits the river. It's not an exercise. Or a piece of equipment.
It's the mind.
When I see Jon Call talking about training thee times every day, I know where his heart is.
When I see JC Deen, Roger Lawson, Neghar Fonooni, Jordan Syatt, Bret Contreras, Krista Scott-Dixon, Al Kavadlo, Nate Green, Paul Valiulis, and Nia Shanks, I don't see professional athletes. I see regular people that pour emotion into their training — people that look at life as sport.
When I see Steve Kamb getting it done as he travels around the world, I know it's about more than calories. Or when I see the Gold Medal Body Crew doing skills that take years to master, I know there's more there than an arbitrary unit of energy.
And then there's Mike Guadango — a former athlete that deals with more injuries than you ever will that still presses on because it's what makes him tick.
It becomes a part of who you are.
It's about the journey. The challenges.
Oh, it sounds serious, sure. But, trust me, in the end, we're all just having fun, learning, and "playing." And that's when everything starts to unfold.
We're not special. We simply have the Wright will. Our heart is in the right place.
Is yours?
When it is, it only takes time. So give it time. Don't stop trying to fly just because someone else is in the air. You have to want to do it for yourself. Not for fame. Not for glory. Not for any opinion other than your own.
YOU HAVE TO ANSWER THESE QUESTION
So ask yourself:
How is training going to change my life?
Once I build wings and take flight, what am I going to do?
Where will I land?
What's it going to do for me as a person?
Am I in this for life?
Does the very act of pursing a body that matters make me come alive?
And what is this journey doing for me:
Physiologically?
Psychologically?
Intellectually?
Emotionally?
Spiritually?
Because if it isn't hitting on those domains, you're probably not going to make it.
So absolutely answer these before you worry about:
Programs.
Reps.
Sets.
Rest periods.
Exercises.
Methods.
Supplements.
Diets.
Equipment.
And to you, calorie monger, I say this: you're going to fail. As much as I want to help you, I can't. You don't belong here.
The good news is that with all of the fancy gidgets, gadgets, fads and fandangos, there's a home for you somewhere. It's probably has eight week escapades, six week solutions, and plausible promises.
But that somewhere isn't here.
Because this place is for people that want to find meaning.
This place is for people that want to take flight.
This place is for people that are in it for life.
This place is for people that want a body that matters.