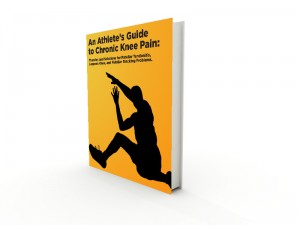 The idea for An Athlete's Guide to Chronic Knee Pain started when I played tons of basketball during my senior year of high school. My knees flared up and the doctors I visited just prescribed pain killers. So from 2004-2009, I submissively lived with this pain. Looking back, I don't know I managed. I was an avid trickster from 2002-2011, and I loved doing squats, deadlifts and the likes. I was always jumping, running, or playing some kind of sport. During it all, my knees gave me issues.
In 2009, I posted a YouTube video of my knee sounding like virgin Rice Krispies floating in cold milk. As Jon Call, a good friend of mine put it: I was Googling for crumbs of information on chronic knee pain. I went to different forums and posted my video in hopes of aid. I returned empty handed.
So I decided that I had to fix the problem myself. I forced myself to forget the popular rehabilitation methods. I threw away terminal knee extensions, hamstring stretches, peterson step ups, leg curls, and leg extensions. I sat down with a pen and a notebook and asked myself the following questions:
"What could cause my patellar tendon to nearly shut down in pain?"
"How can so much discomfort nestle into such a simple structure?"
"Why is this problem so prominent?"
"Why aren't popular rehabilitation methods working?"
I mapped my answers, devising a plan. Over the next year I experimented with my conclusions. The process wasn't perfect but it was working: my knee pain was fading. I documented my journey. As I worked with more athletes and clients, I tested what worked for me. The results were similar.
I thought back to my basketball days, and how I longed for the very information I held in my hands. So I started typing, and I expanded on the program and rationale behind my method, eventually writing the book I wished I had back when I routinely blew $25 on medical co-pays.
From a business perspective, writing this book was a stupid idea. Sales gurus would tell me that I couldn't compete with Mike Robertson's comprehensive Bulletproof Knees. But I never did this to compete with anyone. I don't doubt the quality and expansiveness of Bulletproof Knees. When I was withering in pain, however, I didn't drop the money it because I didn't have a meniscus injury as Mike did. I just had nagging chronic knee pain. Not quite as serious, and I was unsure of the transference.
When I thought back to 2004, I wanted a product that was written with athletic intentions that only dealt with nagging chronic issues and would, most of all, be affordable for a high school kid. And that's what An Athlete's Guide to Chronic Knee Pain is. So if you're looking for a hugely comprehensive and anatomical resource for internal structural damage, you're not going to find it in An Athlete's Guide to Chronic Knee Pain.
To give you an idea of what An Athlete's Guide to Chronic Knee Pain is about, I made a free preview of the book that's easily downloadable on the main page.
I guess I've been rambling, so I'll shut my fingers down. There's tons more to read on the main page for the book, in addition to the the free preview, so I hope you take a look. Just click on the picture or link below to check it out. And if you're one of those ambitious souls wondering how to put out your own eBook, don't worry. That's coming soon.