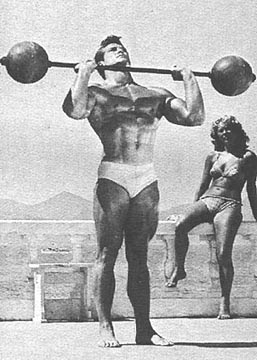 You've probably heard the saying, "Curls are for the girls." The idea is that building muscle requires a steady diet of squats, presses, chins, pulls, and all of the wonderful movements you can do with a barbell that are worth a damn.
I couldn't agree more, really.
Anytime I get an e-mail from someone about aesthetics, my first reply is nearly always, "Do you strength train? How strong are you in the basic barbell exercises?" Of course, I'm then met with, "Well, <insert excuse here>."
It's simple: if you're weak, and you want a better physique, find a way to get strong. Nothing improves your body composition quite like it.
As for what exercises you should do, I have two tips:
If there's a barbell in your hands and you're standing on your own two feet, it's probably good for you.
If you're hanging from something and moving your body weight through space, it's probably good for you.
This whole "strength" thing may or may not be news to you. From a general perusing of the athletic fitness scene, getting stronger is one of the most common pieces of advice.
And that's exactly why I'm going to add a note here: don't forget about your muscles. If there's an underrated, underused, underappreciated, underwhatever aspect of the aesthetic fitness game, it's feeling the targeted muscles work during any given exercise.
So more weight is better…until you can't "feel" the muscles execute the movement.
"If you really want to experience the greatest benefits from your training, you must enter a stage of deep concentration. Do not let your concentration be broken by anyone or anything."

- Steve Reeves
In the quest for strength, it's easy to forget feel. Often, training is a tao of slapping more weight on the bar, hiking it in the air, and rubbing the joints down after.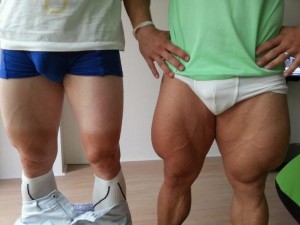 MORE STRESS = MORE POTENTIAL
The muscles that encounter the most stress have the greatest potential for growth. Short track speed cyclist are a great example of this. Their quads are huge because they encounter the most stress.
Increasing the mind-muscle connection increases the stress on the muscles. And if greater growth potential wasn't enough, it also decreases stress on the joints.
Part of me thinks a lack of attention to the mind-muscle connection is why we're in this age of repatterning. I would know, because I'm the middle of it with my book, An Athlete's Guide to Chronic Knee Pain, and my contribution to Muscle Imbalances Revealed.
"Activate this."
"Activate that."
"Your muscle has amnesia."
It's all the same.
Lackluster mind-muscle connections throw more stress on the joints. It's like the muscles tell the connective tissue, "Hey bro, take this." And then they give them something to hold. This happens until the joint can't carry anything else, eventually dropping what they're already carrying.
Unlike more complex repatterning (more for sports implications), the mind-muscle connection stems from conscious thought. That's all. This isn't accidentally driving to an old house.
One of my best anecdotes comes from the principles of An Athlete's Guide to Chronic Knee Pain. Sometimes, people instantly get rid of knee pain by simply putting their mind to use in a new way.
I just finished your book. I was having patellar tendon pain EVERY TIME I stood up from a chair. I'm now extending the hips similar to the way you described in your RDL chapter, and the pain has disappeared. I'm already impressed. Now to translate this to Olympic weightlifting…
HOW YOU CAN INCREASE THE CONNECTION
Unless you're Olympic weightlifting, the question isn't to find out "what" exercises need more mind-muscle connection, the question is "when" you're going to get your mind in gear. Every exercise could use refinement.
Start with places you have joint pain. I'm a firm believer that a lot of the injuries we like to claim are a result of "x" "y" and "z" imbalance are nothing more than terrible mind-muscle connections with the muscles that are supposed to be working. Lo and behold, "Here, hold this bro."
If you have regular "flare-ups," follow my three day rule.
If I train and feel it in your joints more than your muscles for one day, I ignore it. Could be a fluke.
If it extends into a second day, draw back the weight. Train with higher repetitions. Try to fix things.
If it extends into a third day, evaluate the problem. Something is wrong.
As for how to increase your connection, I like Frank Yang's "anatomy book" technique of pretending the working muscles are a different color than the rest.
1. I credit this to Frank Yang . During every repetition of every lift, picture your body as nothingness except for the muscle you're targeting. Check out the dudes in anatomy text books with different colored muscles. Envision that. Seriously. Try it. It works. Close your eyes and practice it before every set. Think of the targeted muscle lighting up bright red in a sea of white.

- The Best Damn Guide for Building Upper Chest Size and Strength
But the color strategy won't matter unless you're training in the right repetition range. Anything below six reps usually trips the body's "holy shit, I just need to survive" mechanism. Thinking about much of anything is difficult. Contrary to popular belief, you can still get strong training with reps in the 6-10 range. It's done the same way: add weight to the bar over time. A novel concept, I know.
And before I get the hatred, I'm not downing the importance of strength. Dan John hits it when he said: "You need to do two things to get stronger: add weight and do more reps. The answer has never been: lift light weights for high reps, or lift heavy weights for few reps. The answer remains: Lift heavy weights for high reps."

But my addition to this is: heavy weight, high reps, with the mind in control of the muscles at work. (And by high reps, I'm talking about 5-10, which is "high" compared to the "few" reps referenced by Dan.)

- The X Physique Part I – Why You Want It and What You Should Know About It
So get strong. Please, get strong. Seriously. Get. Strong.
(It will save me some e-mails in the long run.)
Just make sure your muscles are coming along for the ride.