Much ado is made about muscle building and fat loss genetics.
I would know.
I used to try to calculate my genetic potential using mathematical formulas (like this one). I used to be the pimply poster boy for worrying about genetics.
I have a skinny frame. I can wrap my hand around my opposite wrist and touch pinky finger to thumb. I don't have a square hulk jaw. Most muscular dudes have a big body frame with the alpha male hulk jaw.
I'm tall at 6'4″. Most acrobats are smaller.
I had a solid layer of body fat on me as a teenager. A lot of successful guys in the body composition space have never wrestled with body fat and are naturally lean.
Truth is…
I'm still kinda' sorta' the same pimply poster boy.
I still think about my genetic potential. Because genetics ARE important. You'd be a fool to completely ignore genetics.
But I no longer worry about my genetic potential.
Even if Casey Butt's calculator is true…
…does it matter?
Maximum muscular potential is the goal. Even if you want to gain some muscle without  being as muscular as you could possibly be, the goal remains: be somewhat more muscular.
But goals make for bad focus. Focus on the system instead. (And if this doesn't make sense, read this.)
Building muscle, losing fat, jumping higher, chucking backflips, eating nachos and drinking beer without getting fat …
I just bought a pill that promised me all of this for only $147, plus tax. And shipping. And handling. And fondling.
…it's nice to WANT these things. But this stuff doesn't happen outta' nowhere. You have to make it happen. You have to go to war against your body. It wants to zig. You need to make it zag.
Have you ever thought about what it means to change your body? Because the whole process blows my mind.
Do I look like a serial killer? Who thinks about this? The people selling the pill aren't telling me I have to think about anything. What is this…Soviet Russia?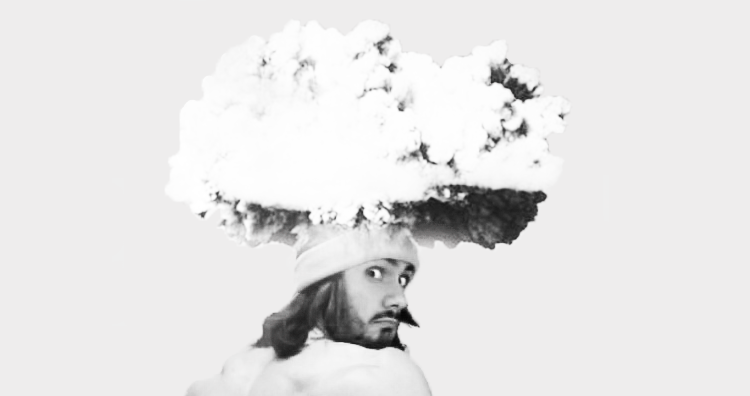 Picture this…
You own a car. You don't like the way your car looks or performs. If you do nothing, nothing will change. Zig. So if you want to upgrade the thing, you have to get your hands dirty. Zag.
Want a more powerful engine? Then take out the old engine and put in a new one. Want tires with better tread? Then take off the old tires and put on new ones. Want better…you get the idea.
This is the only thing you've ever said that makes any sense.
With a car, you take out the old. You install the new.
Now you're in the business of upgrading your body. If you do nothing, nothing will change. Zig. But there are no auto body shops with spare superhuman organs lying around. You don't take out old parts and put in new superpower infused parts.
There might be an abandon looking house owned by a slightly maladjusted human that has some spare body parts lying around, but I'm not sure that's some place you want to visit. And I doubt those spare parts are "superhuman."
You have to reach into your guts and twist nobs, ring bells, and blow whistles.
I can't believe you said "blow".
But how do you reach into your guts when you can't even fit your elbow into your ear?
You don't.
If your Ramanujan maybe you already understand this psychedelic process. I know I didn't. I'm still not sure I understand how it all works. I'm not sure I want to confidently understand anything biological because, more often than not, years down the line, those people look insane. I'm sure the guys that invented leaching and lobotomies thought they were onto something.
Way to protect yourselves from the trolls. The old, "I know nothing, so don't listen to me, this is just a very private journal of mine that also happens to be public, as if I never intended for anyone else to see it even though I'm writing to a reader" technique. This is about as clever as your italicized inside voice technique.
This is a mental model that looks at why the body zigs and what you can do to make it zag. (Without having that whole kalima thing done to you.)
And the crazy part?
Everyone — no matter background, genetics, steroids, other drugs, macaroni and cheese, senzu beans, no matter WHAT — uses the same single simple recipe to hijack their body (and mind) in order to get leaner, build muscle, jump higher, do backflips, and master movements.
This is what we're here to uncover.
The one recipe.
Ready?
Good.
Follow the white rabbit.
May the Gains be with you,
Ant
P.S.
And if you're still wondering…
…but my genetics…?
Do me a favor. Right now. Think about getting a call from your doctor. You pick up the phone. He says, "You have cancer." Or think of getting a call from someone you've been "hanging" around. She calls. Says, "Sorry I didn't tell you this, but I'm HIV positive."
If you're remotely human, thinking those thoughts made your heart rate jump a bit. Maybe they made you feel flush. Just like when, at 2AM on some random Tuesday, just as you're about to fall asleep, you hear a noise in your house and your eyes spring open and your heart pounds rapidly into your ribcage…even though you didn't even move a muscle.
You CAN change what's going on inside of you. And if you can change how things inside of you work with thoughts, just imagine what eating, sleeping, and training can change.