Ever filed through pictures and videos of Olympic weightlifters and wondered why they looked…different? What about gymnasts? Why do each of these athletes give off a certain vibe? One of not only violent muscular prowess, but also one of gentle grace and finesse? Maybe you hit a tipping point: you're done believing it's a coincidence.
And now, maybe you're wondering how to combine both types of training together for the ultima weapon of systems. If so, here are some of my tips and observations fueled by my own jousting (more like failings, but it's the internet, so I can pretend I'm someone I'm not—no big deal). It's time to make Olympic weightlifting and gymnastics do the fusion dance.
The first thing you need to know
Before you know the things you need to know, you need to know one thing that you should already know. Olympic weightlifters compete in the snatch and clean and jerk. They are not powerlifters or bodybuilders. Not to be a Nazi with terminology, but I don't want anyone confused. If you're feeling like a circle, gander at the terms above on Google to get squared away.
Let's take a look at each sport from a bird's nest: gymnasts and Olympic weightlifters are kinda sorta opposites.
An Olympic weightlifter uses their lower body to rip a barbell from the ground (active) to an overhead position. Although the upper body is involved, the main responsibility of the shoulder joint is to stabilize (static) the barbell overhead, not put it there.
A gymnast uses their upper body to do many things and move in and out of (active) immensely muscularly challenging positions. Although the lower body is involved, the main responsibility of the hip is to stabilize (static) the legs, not drive them against a resistance.

In a sense you can say that Olympic weightlifters are very hip oriented, where gymnasts are very shoulder oriented. Each of their physiques would go a long way in proving this—gymnasts usually with densely muscled arms, Olympic weightlifters with the legs. (And you can see why this training fusion is kind of cool—you're mastering the "meat" joints.)
How do gymnasts jump so high?
Since gymnasts tend to live on their hands, having hulking legs isn't exactly ideal. Those things have to come along for the ride, and extra pounds down there make every on-hand skill that much more difficult. By contrast, Olympic weightlifters aren't terribly handicapped by bigger upper bodies, and, in some cases, they can actually benefit.
You might be wondering: if gymnasts aren't all that into legs, how they manage to jump zillions of feet in the air to do their crazy flips and twists? Well, quite simply, they don't jump. They rebound.
Those roundoffs and back handspring thingies they do gather horizontal momentum, which they apply to the plyo floor to propel themselves vertically. In the tricking space, we call this horizontal-vertical momentum shift blocking, but I wouldn't be surprised if it's the completely wrong word because, well, we're rebels without a cause. Deal with it.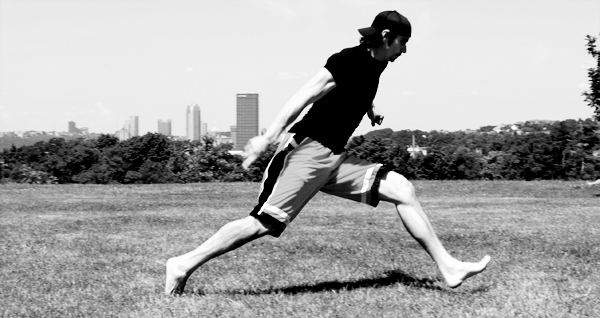 Anywho, blocking works well on any surface, but it works especially well on plyo flooring, which is what gymnastics is performed on. Plyo flooring is essentially springs, plywood, and dense foam, so you get a lot of "bounce."
(Implications? I still believe I wouldn't have broken my foot on grass, because I wouldn't have been as high in the air when I bailed, and my foot wouldn't have missed the ground. A lot of tricksters get injured on plyo; it's environmental steroids if you know what you're doing.)
I believe some old research showed that gymnasts had around a mid 20" vertical jump—certainly below what you'd expect among a high level strength-power athlete. Considering I can jump 30" on my worst of days (and can creep towards 40" with more focused training), their vertical isn't jaw dropping in the least.
The second thing you need to know
The second thing you need to know is that everything I just said is wrong. But for our purposes, we're going to truck on like everything I said is right, so let me explain this.
There few rules in the training world. Anytime you're on the outside looking in, you're pulling off some sort of a guess. Even when you're on the inside, things aren't clear cut.
For instance, Christopher Sommer (on his forum), mentioned knowing two gymnasts. One wasn't even allowed to look at an exercise bike. The other trained to squat twice his bodyweight. (I think squat training is most common among Chinese gymnasts. If you know, let me know if I'm right or stupid.)
And then we have the Chinese Olympic weightlifters that don't mind doing extra hypertrophy work and even basic gymnastics stuff. Yet with the old Bulgarian style Olympic weightlifting training, there was little in the way of "extra."
What's right? Wrong? Neither is neither, of course. In fact, it shows just how many strategies exist to accomplish something and that there's no one solution. (Stop looking for one.) All we can do is say that some things kinda sorta seem to be the norm and this kinda sorta has that implication and something or other seems to make this nob turn and you get the idea.
One of the reasons I enjoy training and tricking so much is that it's more philosophy than math problem. And speaking of philosophy, I think I've bored you enough, so let's get on with the tips.
# Pick and choose spots
Saying "train like an Olympic weightlifter" and "train like a gymnast" is a loose command. For the Olympic weightlifter side, this lights up a pathway in your brain that likely spits out: snatch and clean (or maybe even just "power clean" depending on your experience). For the  gymnast side, you probably think of doing isometric holds for planches, levers, handstands, and those sorts of things.
Alas, this is the crux of the generalist—the outsider that's simply borrowing methods for their own end. If you really were training like a gymnast, you'd be fooling around on the floor, parallel bars, pommel horse, vault, and other places. But you're a mere mortal "fusing" two highly technical sports. You need to pick and choose your spots, because it's nearly impossible to do everything at once—whatever "everything" might mean to you.
It's a lot easier to learn how to pull from the floor and accelerate into the second pull via clean and snatch pulls (high, panda, low) and compliment this work with back and front squats. And you can repeat these things with little technical error. Throw in the full versions of the lifts and you're looking at potential logistical problems. The snatch is a unique and tough stress on the wrist and elbow, which is fine and generally adapted to over time. But throw it atop handstand, planche, and lever work and suddenly your wrist and elbow stressors are piling up.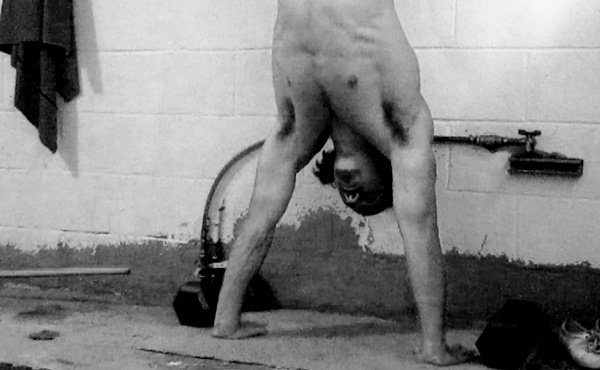 It's juicy to think that some of the largest power outputs ever recorded went down during the snatch, but it quickly evaporates when you realize that professionals are specialists in the Olympic lifts, and they devote their life to perfecting them. There's a difference between learning the lifts to pseudoproficiency and learning the lifts to uberconfidence. You won't be recording your maximal output during psuedoproficiency.
All of this is to say that it takes a while to get good at complex stuff—especially to get so good that you're increasingly reaping the benefits. The more complex stuff you try to get good at, the worst your progress will generally be at any single one thing.
This ultimately comes down to what you enjoy, but for most people already doing some kind of explosive sport, I think squats and pull variations cover the lower body barbell basis. It's simply not true that learning the full Olympic lifts are a gateway for bettering your "athleticism." (More here and here.) Usain Bolt is the fastest man alive and power cleans like a donkey. So much for "carry over." And the line blurs further the more complex the task is. (Having said that, I think you can borrow heuristics from Olympic weightlifting to find out how to train in order to keep things a bit simpler and still gain most of their reported benefit—which is what I do, and kind of what this is all about.)
On the gymnastics front, you might say that the handstand, planche, front lever, and l-sit is enough to fill your plate for starters. They will get you used to straight arm maneuvers and the sad reality of most isometric holds in that a one millimeter shift in body position is the difference between sipping a mai tai and fufufufcucdccwwarrrrrk.
# Know when to move on
Call me crazy, but I'm the guy that says you need to do curls if you want big arms. Insane, right? Alas, there comes a time for delegation—perhaps consider this a shift in goals.
I was asked — in a coaching group from a previous barbell-bodyweight merger program I released underground — why there weren't any push-ups in the program. To best explain this, I'll mention that Ido Portal (who appears to have a rather outrageous success rate with clients being able to perform one-arm chin-ups) has said that he doesn't do weighted chin-ups (nor does he feel strength above five consecutive bodyweight pull-ups is all that essential) because the strength simply doesn't carry over to more advanced skills.
You have to be able to say, "this is a good, worthy exercise, but it's simply not in the cards for me because I have to be elsewhere." This takes a lot of stones, because we're programmed to be mules searching for one holy grail exercise or pill to solve our problems. It's not normal for us to toss aside a perfectly "good" exercise. 
And not only that, but you also have to know when an exercise exhausts its potential as a primary exercise, otherwise, you're going to be cramming too many things into your training. If you're doing things right, at some point, an exercise that used to be stressful and hard will likely become easy and simple, at which point it might serve little purpose outside of a warm-up.
So back to the curls: if your goal is simply bigger arms, then curl. If your goal is to iron cross or one-arm chin-up, you have to dig more. Is the strength going to help? Is it going to carry over? Is the stress it places on the elbow and wrist going to hurt you in the long run? Would you still get bigger arms in the pursuit of the other skills? Decisions and questions like this pop up for just about everything within your training.
Want more tips?
The topic of this kind of training, and how it all relates to developing a certain look and a certain set of abilities and how it all relates to acrobatic strength and power movement has been my baby for quite a while now. I've been trying to get my thoughts down in a coherent way for some sort of an official launch of my resource one of these days, but there are so many cavities to explore. If you have any questions, drop them below so I can touch on them in future articles. It will help me clarify my thoughts.
I have a few more tips, but as you can tell, this article has already ran long. Be on the lookout for them to be released soon.
+++++
Credit: While I learn from everyone and from as many places as I can, I have to thank Ido Portal, Kirksman , and Chris Sommer. Hat tip to Gold Medal Bodies as well, as their resources are also quality.