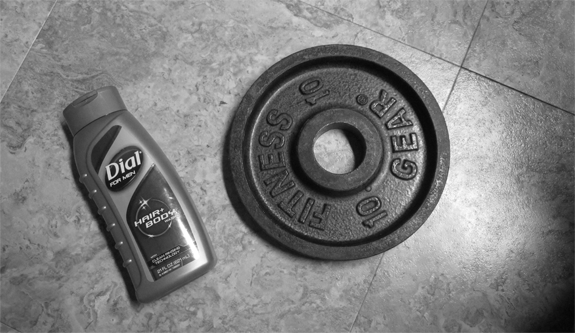 Nothing  is more sought after than gaining muscle without turning into a clone of Jabba the Hutt. Except maybe gaining muscle and losing Jabba the Hutt love handles at the same time.
The former is usually called "clean bulking." I never really did enjoy the term "clean bulk," but I'm lightening up to it. It's not that you scrub your foods down with soap or anything. "Clean" simply means that your muscular gains aren't escorted by "garbage" fat.
The latter is usually called a "recomposition." Sounds cool, but it's truly the most difficult line to walk when it comes to changing body composition and considerably tougher than the clean bulk.
There are a lot of people out there that say both the clean bulk and the recomposition are impossible. From my own experiences, they aren't. But have a few theories as to why people say they are:
Because the majority of people that try them fail.
Because the majority of people don't know how to do them.
Because it's much more complicated than standard bulking and cutting.
Because it takes longer to explain (much, much longer) and that would make for an overly crowded inbox.
The widely accepted idea is that the body can't build muscle and lose fat simultaneously. (Simultaneously isn't the best word to use here, as you will see in the coming days…) But considering the body is forever running through a host of contradictory processes through out the day, it's silly to say that it's impossible to gain muscle and not gain body fat.
There are common mistakes made when trying to clean bulk though. They're a little too common to tell you the truth. I know because I made them myself. If my 2006 self could look at how my 2013 self does things, it would punch me in the face.
"You're crazy! You eat rice? You eat…carbs? You don't do more than three meaningful sets per exercise? You actually do bicep curls? You hate HIIT?"
All things my 2006 self wants my 2012 self to explain.
If you're familiar with me, you know how I approach body composition.
1. Get to your solid base.
2. Gain muscle slowly from there.
There's nothing about getting fat in there.
Now, you probably hear whispers from those that have done a traditional bulk, have gained a bunch of muscle, and have seen great success. But I'm beginning to think that traditional bulking is reserved for those that have right genetics for it — the genetics that have an aversion to body fat.
For skinny-fat sufferers (and those of a lesser genetic totem), the clean bulk is all we have. Otherwise we get caught in purgatory: bulk, get fat, gain a little muscle….cut, get lean, lose nearly all our muscle.
So the clean bulk is a pretty big deal.
For the next few weeks, I'm going to be posting why post people fail with their clean bulking efforts. So if this is something that interests you, stick around. It will be a good time.
So what do you think?
Clean bulk  – possible?
Recomposition — possible?