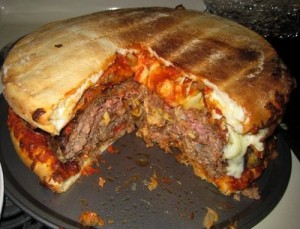 Normally, vacations are all about lounging on the beach with six pack abs ablazin'. For me, however, the six packs will be afreezin' because I'm letting Dr. Jeckyl come out to play.
For ten days (the length of my vacation), I'm completely unleashing my diet. Nothing will be off limits. Or should I say, everything will be things that are normally off limits.
Beer. Wine. Pizza. French Fries. Nachos.
Everything.
For these ten days, I'm going to document the specifics of my journey.
And then I'm going to document my climb back out from the hole I'm putting myself in.
There are a few reasons for this experiment:
I want to see the extent of damage that can be done in ten days.
I want to see how well an experimental cutting template of mine works. (AKA: Work for my upcoming Nutrient Autoregulation eBook that will accompany both the Athletijacked and Skinny-Fat resources.)
I want to see how long it takes to reverse ten days of bad habits.
I want to see it takes for me to get back to "normal" body composition.
I want to be reminded of how difficult it is to reverse ten days of bad habits.
As for my training, it will be either heavily scaled back or non-existent.
Remember, I can eat a twelve egg omelette without remorse. So when I say I'm unleashing myself, I mean I'm unleashing myself.
Since getting super sloppy isn't exactly "fun stuff," I wanted to spice thing up and somehow manage to have a good time through it all.  So I'll regularly be posting pictures of my meals on social media and, I imagine, holding some contests. For instance: how many beers did I drink, or how many pieces of <insert pizza picture here> did I eat?
Winners will get a copy of my book, An Athlete's Guide to Chronic Knee Pain, or perhaps other fitness schwag that I'm getting rid of (like my pair of 13.5 sized Olympic weightlifting shoes, for instance).
So maybe you should only tag along if you want to dream about food porn and drool in your sleep.
Unlike other heads, I don't have my accounts (Facebook and Twitter) synced. I treat them as separate entities, so if you have both, be sure you're following me on both for a live look at what's going down as contests, pictures, and updates will be exclusive to each platform.
A complete rundown with all pictures included will be reserved for an "aftermath" document that I will put together.
BACK TO ATHLETICISM
The past few months have included a lot of talk about the sexiness:
But lucky for you, I've been working like a madman to queue up some blog posts so that you will have something to read while I'm on vacation. (No, I don't take time off. <3) And the best part is that it's all about athleticism and athletic movement—specifically about motor repatterning and similar succulent sweetness.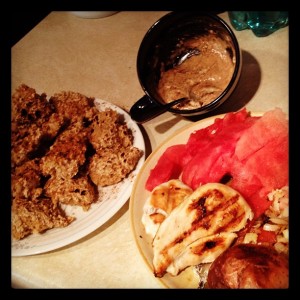 One of the reasons why I took a break from the athletic content was because *hush-hush* I was offered to contribute to a little project, and my "piece" was on beginner athletic movement—I needed balance out some peanut butter with some jelly, if you know what I mean.
And speaking of food, has anyone tried mascarpone cheese? This stuff is unrealistically delicious. Tastes great with my oatmeal bites (made from the oatmeal volcano base) and protein pudding.
SO LET'S RECAP
Click here to follow me on Facebook.
Click here to follow me on Twitter.
Be prepared to get athletijacked because I've been working triple overtime to have mad blog posts ready for you while I'm away.