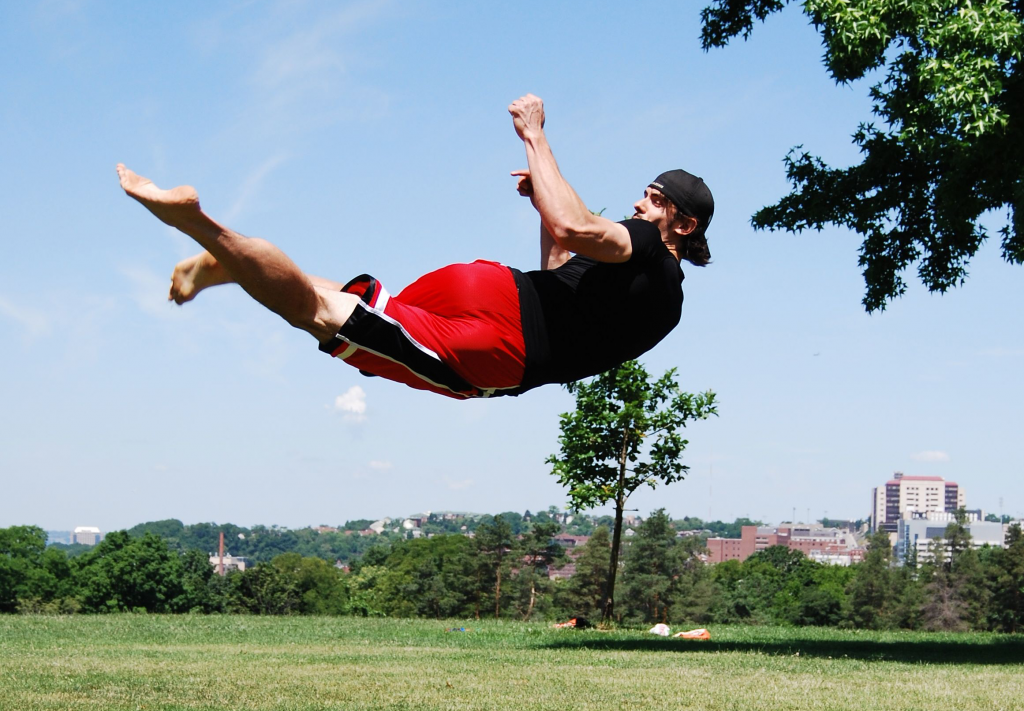 You learn a lot suspended in mid-air with your head closer to the ground than any other body part.
To some, doing flips, kicks, and twists — the wonderful thing we call "tricking" — in the air is "crazy." Maybe even superhuman.
But, truly, tricking is humbling.
Because no matter how much of an expert you are, there's always a chance of failure. There's always a chance of having a mental lapse and crashing. There's always a chance of breaking five bones in your foot.
I'm lucky to have grown up with tricking. It was a baby when I found it (still is, really). Part of me wants to admit that tricking has taught me more about fitness, athletics, psychology, and philosophy than any book could. And these are things that—I want to say—I would never find in a book. Even though I probably could. But at this point in my life I'm not sure I would even read it even if I found it.
Eckhart Tolle once said, "Life will give you whatever experience is most helpful for the evolution of your consciousness." For me, "life" should be replaced with "tricking" in that sentence. The cliffnotes of this evolution would look something like:
Tricking helped me understand the value of "play" over competition.
Tricking helped me understand movement. So when I'm rolling around, stretching my hip flexors, and hanging out in squat, I'm doing it because I know what it's like to have movement stolen from you. It isn't fun.
Tricking helped me understand the relationship between specific strength movements and specific athletic movements.
Tricking helped me understand skill acquisition by trying to learn tricks on the non-dominant side.
Tricking helped me understand and embrace failure. You can say it was a painful learning experience, as "failure" often means scraping yourself from the grass. But if you're afraid of trying new techniques, you won't learn.
Tricking helped me understand sharing experimental findings with a community, even if they weren't universally applicable. They weren't really expected to apply to everyone because everyone had different preferences, proportions, and peculiarities.
Tricking helped me understand the relationship between strength training and athletics. Most strength work requires tension. Most sports require relaxation. Imagine swinging around chain links as opposed to cracking a whip. So it's important to hop back and forth between mentalities, never letting one get too dominant in the other's world.
It's been a long time coming, but I'm excited to say that I'm officially launching Trick Training. The website you're on now, AnthonyMychal.com, will continue to be updated regularly, so don't worry about that. This place remains a safe haven for my brain's scribbles on general athletic fitness pursuits, nutrition, and all of that fun stuff. Perhaps in the future, it will be a bit more personal and even showcase some food shenanigans I get myself involved into. (What do you know, I happen to have a sweet video of the likes below!)
Trick Training is a specific hub for those that want to learn about basic tricking and training for tricking. I'm still a little unsure about how I'm going to bridge the gap between the two websites, but I'm sure I'll figure that out as I go. All that I know is that I had some trick-specific bits that I felt I needed to do justice to and that turning this place into a full blown tricking town wasn't the way to go.
One of those tricking bits is how the vertical jump, and jumping higher in general, relates to better tricking. (Or does it?) With other (bad) programs out and about, I wanted to throw my own opinion out there in hopes that tricksters can continue to train safely and injury free and learn the role of the vertical jump in tricking. (More on this soon…)
Since Trick Training is a brand new website, there's a brand new update service. Just like on AnthonyMychal.com, if you throw in your e-mail you get access to:
Absolutely free website updates, so you never miss a post.
Early releases of premium content (as I did with The 242 Method and The Myth of HIIT).
Catching Air: The Truth About Developing, Using, and Transforming the Vertical Jump for Sky High Tricks
Catching Air is yet another free eBook I'm shooting out into the world. (This is the third one so far, if you're keeping count.) It's about the vertical jump as it relates to tricking, and what's inside may surprise you. It's absolutely free and given as a perk for signing up for free updates.
So if you're interested in tricking, or perhaps any of the content that might appear on trick training, here's what you should do:
1) Sign-up for the newsletter and get your free copy of Catching Air (CLICK HERE for direct access to the sign-up page).
2) Throw the RSS feed into your reader (if you're into that sort of thing)
That should be enough to keep you in the loop.
And if it's not something you're interested in, that's cool too. I respect that, which is why AnthonyMychal.com will still kick it regularly.
I'm glad you're here, and I hope to see you over at my second home, Trick Training.
Thanks for the support everyone.