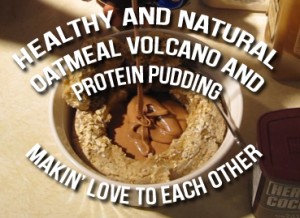 After the How to Start Intermittent Fasting post and The Diet to End all Diets post, there was a lot of interest in my oatmeal volcanoes and protein pudding. So I ventured into video land and played Emeril Lagasse for a few days. Enjoy!
No, seriously. Make both and enjoy them.
Just don't fall in love too quickly and eat too many volcanoes in one day. (Like I did on Tuesday.)
Share to all oatmeal lovers, please. You owe it to them.
Oh, and if you can't spare the twenty minutes to watch both of the videos then you really don't want to make and or eat either anyway. Your choice. But if you're ADD here is the shorts:
Volcano:
Oats – water – soak – paste consistency – 70% heat – solid – 85% heat – crust – fin
Pudding:
3 tbsp water – (3) 70cc scoop unflavored protein – nutmeg – cinnamon – cocoa – mix
Feeling daring?
Add:
cottage cheese OR sour cream - banana - nuts