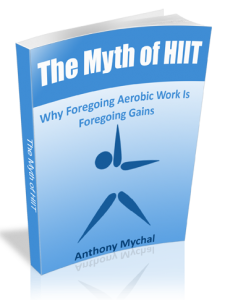 1. If you're signed up for my newsletter, you'll get a copy of the Myth of HIIT in your inbox Friday night. It's 100% absolutely free. It's good to be a friend, isn't it?
2. The standing barbell curl jacks the heart rate more than any seated exercise — pressing included. I'm beginning to think it's one of the better upper body exercises all around.
3. I opened up a Tumblr account. It's a pretty cool glimpse inside of my head, and I update it daily. Check it out here.
4. I'm thinking the 6-8 repetition range, for me, is home.
5. On Monday there will be a huge post on Evosport and extreme long duration isometrics.
6. In light of #5, I'm convinced that just about everyone should be doing both the lunge and push-up extreme isometric.
7. If you're signed up for my newsletter, you'll get a copy of the The 242 Method in your inbox, 100% absolutely free, next week. It's good to be a friend, isn't it?
8. I'm opening up a second blog, specifically for tricksters. It will be called Trick Training. Just finalizing the design.
9. This Sunday I'm making a hamburger topped with pulled pork and macaroni and cheese.
10. For the past few months, I've been supersetting chin-ups and power cleans. The upper back has responded well. Very well.
11. For the next few months, I'm going on a targeted upper chest hypertrophy adventure. It's the only part of my body that still pains me from a psychological standpoint because it affects how t-shirts lay and, subsequently, what I wear. It's the last mental hurdle to hop. But I have an extensive plan of attack.
12. I don't care what anyone says. I love Frank Yang.
13. I think I'm a coffee addict. I can't say I regret this. None after noon though.
14. I don't regret a lot of things, but I regret trying the warrior diet. My appetite is huge. And I never get full. I'm always thinking about my next meal, and food in general. It's not a healthy way to live.
15. I got my first article published on LIVESTRONG.com this week. Check it out here.
16. I've been logging some glimpses of my training on Fitocracy.
17. I've been able to trick without foot pain. In fact, I think this could be the healthiest I've ever been in my life.
18. It's not supposed to be easy.
19. I love the messages RedBull conveys. This commercial brings tears to my eyes. And to top it off, RedBull girls came to one of my games and handed out Total Zero. Srsly?
20. I'm confident in saying I'm caught up with e-mails and messages. So if you sent me something and didn't get a response (my bad), send it again.
21. Reward yourself for small wins. You probably never do. Neither do I. But we should. It seems that every time we make progress, we're unsatisfied. We just set the bar higher and keep climbing, forgetting to relax and enjoy the moment where we step from peg to peg. But this pushing and pulling between wanting more and enjoying the moment can kill us. The happier you are on the journey, the more successful you will be. End of story. So even if it's the tiniest step in the right direction, at least recognize that it's not in the wrong direction. And that's something to smile about. (This is a scientific fact.)