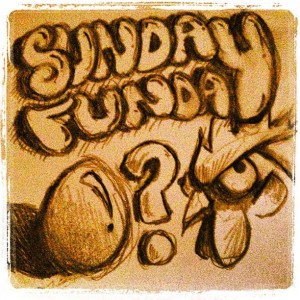 Bloggers hate posting on Sunday. People are relaxing, praying, golfing, watching football when applicable, and just not hanging around the internet. To further prove this, you're almost absolutely reading this on Monday. (I do psychic readings, inquire within.) Maybe everyone has a hangover from Saturday night? Whatever. I don't understand it. Maybe it's a chicken and egg thing. People don't visit blogs on Sunday because the bloggers themselves don't post. Fancy that. We're the ones playing golf. (This is true for me, actually. My game needs work though. Last year, my driver's head fell off. But that's another story for another day.)
There are, however, some people that step away from life's obligations to indulge in the wonderful fitness community on Sunday. And for those of you that do, you're in luck. Grab your morning coffee, ditch the newspaper, and claim AnthonyMychal.com your new Sunday morning home.
As a blogger, I get torn between being posting "srs busnss" and "lolzers." So I'm devoting every Sunday to off the wall randomosity to tie up loose ends, shamelessly plug things, and deliver cool content all around. Sunday Funday is a mix of: things that interest me around the web, books I'm reading, tricking videos that make me slobber, cream-worthy website designs, good reads, and other goodness. There's no way to describe it, so just be here every Sunday. Coffee in hand. Or you can save it to brighten up your Monday. Either way. Let the Sunday Funday begin.
1. Sketchnotes
Throughout school, I was a doodler. I doodled on my notes. I doodled on my folders. I doodled on my tests. In fact, I wanted to be an artist nearly my entire life. In 2005, however, I stopped drawing. "Real world" stuff got in the way, I guess. But I'm back to doodling now, mainly as a form of notetaking. Pioneered by Mike Rohde, this is called sketchnoting. Fantastic stuff. Superhuman note taking, perhaps?
And if you're an astute cookie, you noticed some hand drawn things here lately, like in Become Superhuman, The World of RedBull, Essense, and Emotional Blogging Advice. Instead of scouring the web for irrelevant images to splice into my blog, potentially violating copyright laws, the plan is to hand draw a feature image for every post and release it a day or two early on Facebook and Twitter to "hint" at the content. I'm not too good. But I enjoy it.
2. Comment Crusaders – Danavir and Bennett
While I love every comment, no matter the medium, Danavir Sarria and Bennett crushed it on my blog. If I ever met them in person, I'd give them a big hug.
Both drop (or dropped) huge responses on at least one of my blog posts. I'm talking 800ish word bombs that probably took thirty minutes to craft. That's a huge chunk of time out of their day to passionately respond to thoughts I created. And I'm humbled and grateful to be in that mix.
3. Ben Bruno
Ben Bruno regularly links to the articles I write in his weekly Good Fitness Reads piece. He never asks for anything in return, either. From what I can tell, he's an awesome guy. And by writing this, I'm reminded that I need to reach out and chat with him.
But I have some bad news. I think Ben is on performance enhancing substances. Performance enhancing substances for writing, that is. Seriously, he pumps out articles for his blog, T-Nation, and even the likes of Men's Fitness seemingly daily.
4. Weekly Trick Fix
Nothing too crazy here. Just tricking on concrete. No big deal. Mogwai is, and always has been, one of my favorites. Go HD on the video.
Such a beautiful and peaceful sampler. Must fly out and meet these guys some day. I still have my old New Age Ninja's shirt.
5. My Face, Different Places
Recent articles I wrote for other websites:
6. I Will Teach You to Be Rich
Ramit Sethi's book, I Will Teach You to Be Rich, was $2.50 or something silly on Kindle, so I bought it. My thoughts after reading it: Buy it. Now.
I'm lazy yet cautious with my finances. Mistake. Here are a few goals for myself over the next few weeks:
Transfer most of my money into a higher interest savings account
Contemplate banking completely online
Opening up a sweet credit card with rewards or cash back deals
Negotiating with the credit card company to get perks and whatnot
Opening up a Roth IRA
Look into minor investing
Now, I'm lost in the shuffle. There are a ton of banks and a ton of credit cards to choose from. So I'm thinking of  documenting my experience and writing about the whole ordeal. I imagine it would help other lazy and lost souls like myself.
7. Best Read
Instead of recommending every article under the sun (even though I really want to because everything is so damn good out there), I'm going to narrow it down to one article or blog post per week. Tough cookies, but I'll manage.
I chose this because I invented protein pudding. Really, I'm that cool. (Ok, so I didn't invent it, but I've been making it for a long time yet never wrote about it because I'm stupid.) But, more importantly, the second point with the heart rate monitor is huge. Heart rate and aerobic training is on the rise and there may or may not be a Superhuman Conditioning eBook in the works. Just saying.
8. My Crawl Back Into Tricking
And here we are, at the end of all things. Have a great week.