Are you using your power rack for all the wrong reasons? You might be. Here are some tips to get more out of your power rack than just squatting and benching. (And a way to include exercises you never thought of doing.)
With the release of How to Bench 400 pounds (Not What You Think), A New Way to Look at Fat Loss?, and The Down Low on Gymnastics Exercises – An Interview, I've gotten some questions (and fan mail) on my love for and use of body weight exercises.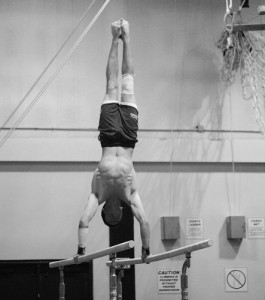 Recently, I've spent 10-15 minutes practicing handstands, planches, front levers, and l-sits on three of my training days. They are challenge in ways that barbells can't empathize with. My legs are huge in comparison to my upper body, which is a limiting factor on many gymnastics exercises. (It's a worthwhile excuse for my utter debauchery of them.) But I wouldn't be practicing them unless I found out how to get more out of my power rack.
Before, planches and l-sits hurt my wrists and my high tech pull-up bar (an I-Beam) wrecked my hands on levers. I would get motivated to do them, but after one or two sessions, my body hated me so I stopped. But then I remembered that some people use their power rack as a dipping station. For whatever reason, I never thought of using them as parallel bars, which instantly makes the exercises mentioned more enjoyable.
Keep in mind that, as of now, I do these exercises for fun. They are skills in themselves, so a more serious athlete needs to justify their use (even though I think front levers are the best "core" exercise in existence).  For everyone else, have fun with them. They can be frustrating. Progress is slow and is measured in years, not days or weeks.
TURNING YOUR RACK INTO PARALLEL BARS
You have to have the right kind of rack assembly to do this, which goes without saying. But if you do, situate the safeties a good ways off the ground (this will take some experimentation), and simply toss two barbells on top of it. The most important thing to remember is that the barbell has to be secured. Push it to the ends of each upright so it can "lock" in place. If you don't it might spin, slide, or turn, which will be trouble.
discussion
There's always creative solutions out there for exercises you think you can't do. Harness your inner Ben Bruno and think of ways to unconventionally make use of your equipment. If you already have one, or if you're throwing around ideas in your head, let me know about them. I'd love to see what you have in mind in the comments section.